Let us begin this article with the boring bit; an extract from the Civil Service Code, the Government's published document which outlines the Civil Service's core values, and the standards of behaviour expected of all civil servants in upholding these values:-
From: https://www.gov.uk/civil-service-code

Civil Service values
3. As a civil servant, you are appointed on merit on the basis of fair and pen competition and are expected to carry out your role with dedication and a commitment to the Civil Service and its core values: integrity, honesty, objectivity and impartiality. In this Code:
'integrity' is putting the obligations of public service above your own personal interests
'honesty' is being truthful and open;

Standards of behaviour

Integrity
6. You must:
fulfil your duties and obligations responsibly;
always act in a way that is professional and that deserves and retains the confidence of all those with whom you have dealings
deal with the public and their affairs fairly, efficiently, promptly, effectively and sensitively, to the best of your ability;
comply with the law and uphold the administration of justice.
7. You must not:
misuse your official position, for example by using information acquired in the course of your official duties to further your private interests or those of others;
disclose official information without authority. This duty continues to apply after you leave the Civil Service.

Honesty
8. You must:
use resources only for the authorised public purposes for which they are provided.
9. You must not:
be influenced by improper pressures from others or the prospect of personal gain.

Impartiality
12. You must:
carry out your responsibilities in a way that is fair, just and equitable and reflects the Civil Service commitment to quality and diversity.
13. You must not:
act in a way that unjustifiably favours or discriminates against particular individuals or interests.
Now allow us to introduce you to Bill McCreath. Mr. McCreath is an employee of Her Majesty's Revenue and Customs at Centre One in East Kilbride, where he holds the position of Delivery Manager. He is also an official with the Public and Commercial Services Union and at one time sat on their National Executive Council.
Another in a long, long line of Celtic F.C. supporters with a very unhealthy obsession with Rangers, McCreath appears to pay scant regard to the guidelines issued by his employer. In addition, according to anti-sectarianism initiative Nil By Mouth, Mr. McCreath is a bigot with a fondness for using the sectarian term "huns" when referring to the Rangers support.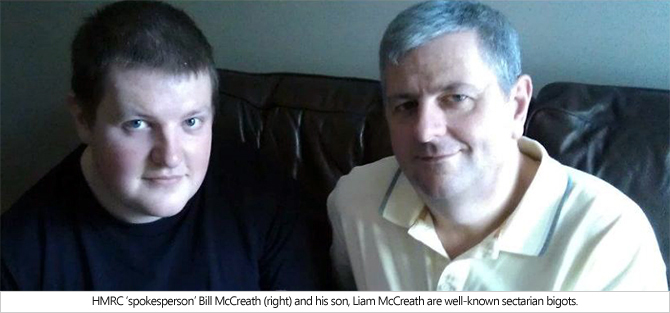 Our attention was drawn to McCreath's Twitter conversations with the now totally discredited Rangers Tax-Case blog, where he seems to be offering "impartial" opinion. A Taxman speaking publicly, regarding Rangers' tax affairs: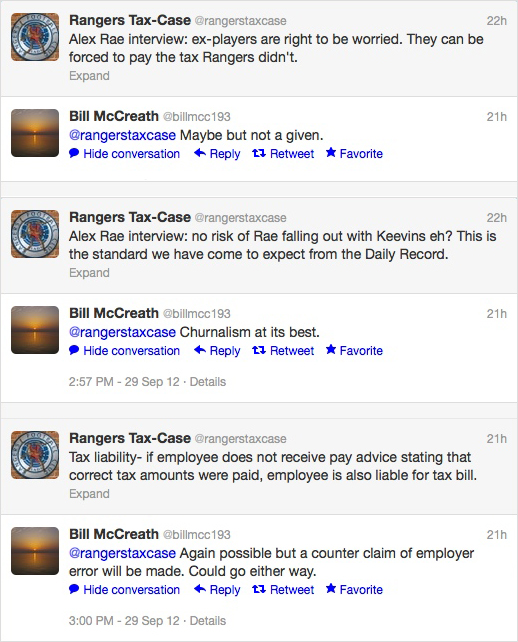 Furthermore, he seems to be HMRC's media spokesman, offering his honest and objective opinions to Scottish Television and the BBC: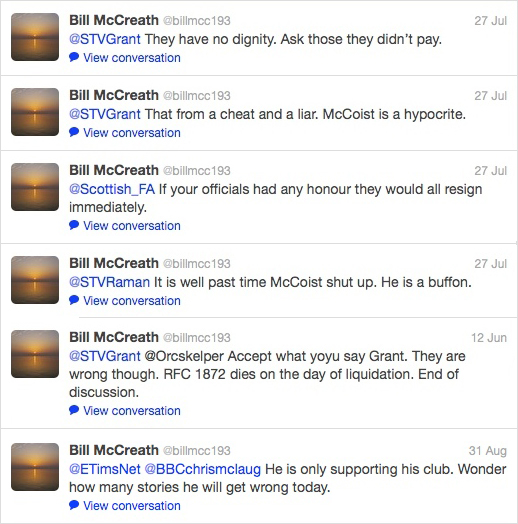 As you can see above, McCreath also likes to offer impartial advice to Rangers' manager Ally McCoist and give opinion on same.
Ian Davidson MP and James Traynor were others also subjected to McCreath's impartial ranting: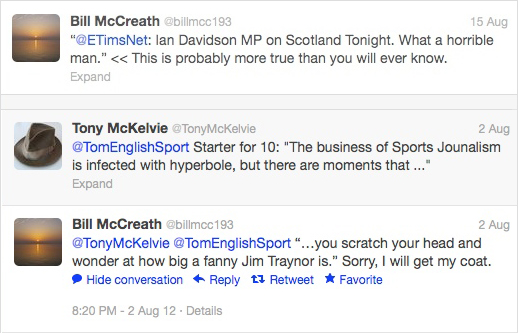 Suddenly and unannounced, Mr. McCreath chose to delete his Twitter account.
Another outlet of choice for McCreath to give his honest and impartial opinions was the "Thoughts On Scots Law" blog of disbarred and discredited lawyer and Celtic supporter Paul McConville (deceased):
Bill McCreath on February 22, 2012 at 12:51 am
"If, as seems clear, Ticketus have bought season tickets for a number of years why would any payment be due to them prior to the sale of the tickets? So why would the need to extend the deal exist? Their margin is surely on the income from tickets over and above what they paid for them. Or am I missing something?"
As we know, anti-bigotry initiative Nil By Mouth and indeed Celtic Football Club themselves have declared the terms "hun" and "huns" to be sectarian. On their respective websites, both made the following statements in 2010:
Nil By Mouth: "Offensive sectarian language is still used in Scotland on a daily basis, with abusive terms such as "Hun" and "Orange bastard" being used negatively against Protestants."
Celtic F.C.: 'Sectarian 'Hun' banned by Celtic - Celtic have banned a popular term for their Ibrox rivals Rangers, warning fans they can no longer call them 'Huns'. The club has revealed that any member of staff saying 'Hun' can face disciplinary action or sacked and fans may be asked to leave the ground if they use the word.'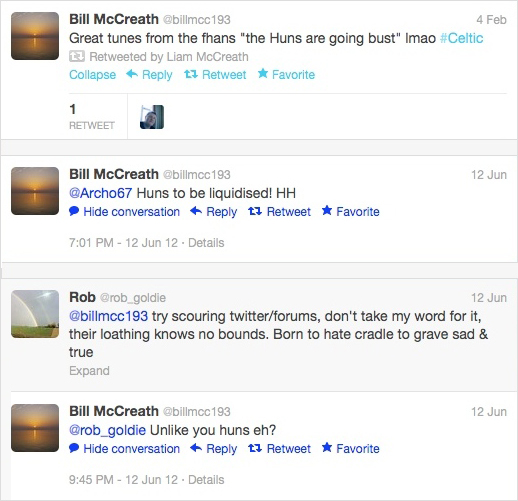 It would seem even children are afforded Mr. McCreath's sectarian wrath. Members of the Boys Brigade may be surprised to hear that, according to Mr. McCreath, they are "Proddy Paras":

We note that Mr. McCreath's daughter Mary Ann is also an employee of HMRC. We trust that she was hired on merit and not through any undue influence. We also hope that she takes her responsibilities more seriously than her father does/did, and doesn't follow in Daddy's footsteps like her brother Liam has. Liam works as a Tax Avoidance Advisor (oh the irony) for the law firm French Duncan.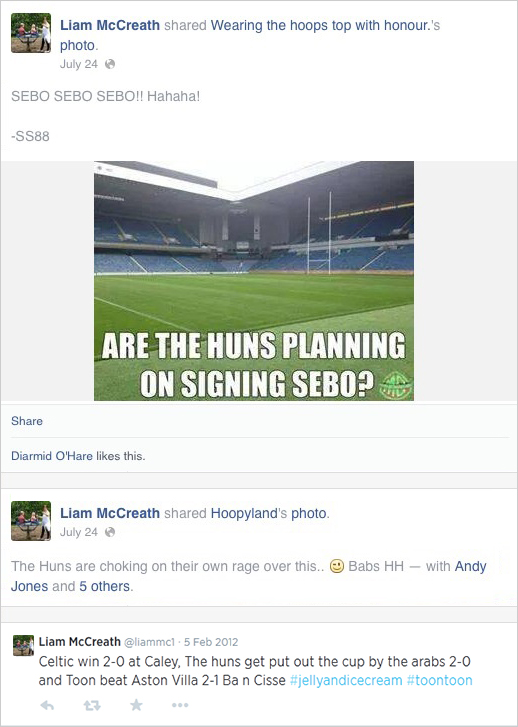 Further, we are aware of other HMRC colleagues of Mr. McCreath who liked to display their integrity by offering their honest and impartial opinions on Twitter and elsewhere. Isn't that right @taxghirl 'Julia' and @Archo67?
The web of hate is unravelling slowly but surely.