Paedophilia is vile. In fact it is beyond vile. The perpetrators are monsters. Evil, depraved, sub-human.

For a generation, a paedophile operated at Celtic Football Club, molesting children supposedly under his care. Celtic Football Club is not to blame for James Torbett's horrific perversions. These devious and deceitful men (and occasionally women) make it their mission to wheedle their way into areas where they have access to children. James Torbett was one of them.

But that is where any absolution of blame regards the Celtic Paedophilia Scandal should end. Let us be blunt here – Celtic Football Club, its manager and board of directors knew about Torbett's sexual molestation of young boys and failed to contact the police. Further, they attempted to cover up his crimes, with manager Jock Stein in particular, disgracefully instructing Celtic employees to "keep the name of Celtic Football Club clean at all times".
Digest press reports from the time the scandal was finally uncovered:

"Jock Stein and the Celtic board covered up allegations made against Boys' Club founder Jim Torbett…… He (witness Hugh Birt) told how he took the allegations against Torbett to the Celtic board and Stein and even told the then vice-chairman, Kevin Kelly, about them at a meeting…… I was told by Jock Stein to keep the name of Celtic Football Club clean at all times." (1)

"Kevin Kelly (former Celtic Chairman), still honorary president of the (Celtic) boys' club, is a fellow director of Torbett's company The Trophy Centre, and current board member Jack McGinn is an employee……it is not clear why a man widely regarded as a child abuser was allowed back into a position of responsibility at the boys' club." (2)

"Birt claims he was concerned about the behaviour of both Cairney and Torbett - who wheedled his way back in after Jock Stein's death – and raised the matter with the club. Before he knew it Birt was asked to resign. When he stood his ground and refused, Celtic withdrew his ticket to the directors' box and he had no option but to get out." (2)

"Why didn't they blow the whistle?.......a pervert was allowed to prey on a succession of vulnerable kids……while those (at Celtic) in authority looked the other way…… why - despite the stream of accusations of sexual abuse - was Torbett still acting for Celtic in an official capacity as late as 1993?...... why did former Celtic chairman Kevin Kelly - who was made aware of the allegations - give Torbett his endorsement by becoming a director of his Trophy Centre shops? …….The police must carry out an immediate criminal investigation……" (3)

"A disturbing aspect is the allegation of a cover-up to maintain Celtic's image. That is shameful..." (4)

"It (Torbett's crimes) was an open secret at Parkhead" - former Celtic captain Billy McNeil. (5)

"Dark secret that took 30 years to expose; NO MORE COVER-UPS: HOW THE RECORD BROUGHT AN END TO THE CANCER THAT EXISTED IN CELTIC BOYS' CLUB... from the boardroom to the dressing room, it was murmured that Celtic Boys' Club boss Jim Torbett was molesting young stars... to a man, the Celtic board did nothing to expose the pervert and the dreadful scandal... if ever a story had been hushed up it was this one... the shameful silence only helped the man who preyed on the teenage hopefuls, knowing they would be too afraid to reveal the truth." (6)
"Victim 1 – 'the burly six-footer broke down in tears as he recalled the abuse that ended his football career and has left him depressed and lonely.'
Victim 2 – 'Now an alcoholic, the man had carried his burden for 23 years. He told through tears of the night Torbett performed a sex act on him as other boys slept nearby on a Boys' Club trip to Norway. He was 13 years of age.'
Victim 3 – 'He said that he had been abused by Torbett and he believed there were other victims. (He) had also been molested in Torbett's home.'" (6)
"HUGH Birt's 25-year crusade has been to unmask perverts like Jim Torbett. Today, 12 years after he quit as chairman of Celtic Boys' Club over the sex abuse cover- up, Hugh is still angry. He is convinced that there are dozens of other Torbett victims suffering in silence……."Jock said to me to keep its (Celtics) name clean…..he (Birt) said (Celtic Chairman Kevin) Kelly, who had just been given a plum job at Torbett's Trophy Centre, promised to investigate and the claims were reported to the Boys' Club committee. But minutes from that meeting have vanished. Hugh claims he finally quit after a row with Kelly over the abuse claims." (6)

One report above states "the police must carry out an immediate criminal investigation". To this day, those who covered up Torbett's sick perversions were never brought to task and forced to explain why they did so. No official apology was made. Celtic paid no compensation to victims, many of whom had their lives ruined by Torbett. Sickeningly, he was actually allowed to RETURN to Celtic after his "indiscretions" were brought to the fore, enabling him to molest more children.

Of course any mention of this absolute scandal evokes accusations of "point scoring" and drags out the very worst of the Denial Branch of the Celtic following to claim that the discredited Stein "booted Torbett out the door". He may have done just that. What he didn't do was what any decent person would - phoned the police. More children suffered because of Stein and the Celtic Board's inactions and pre-meditated cover-up. THAT is the real scandal and it is one that should be investigated fully by both Police Scotland and the Scottish Football Association.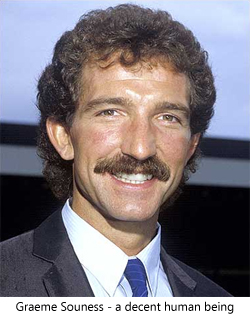 Roll forward to present day as revelations of paedophilia in England rock the football world. A freelance journalist by the name of Marcello Mega, under the headline "FOOTIE KIDS BOMBSHELL - Rangers fired abuse quiz coach Gordon Neely after boy made allegations against him" regurgitates a 25 year-old story about a youth coach at Rangers. The coach, one Gordon Neely, is alleged to have said something inappropriate to a youth player. Rangers' manager Graham Souness sacked him immediately and called in the police, in effect showing Celtic FC how it should be done. No cover-ups at Ibrox. No shameful secrets. Doing the right thing was at the forefront of thought.

Of course the aforementioned Denial Branch CSC turned full circle, abandoned their faux morality and attempted to embark on the kind of "point-scoring exercise" they had previously decried... failing miserably. One thing was puzzling. There are enough old newspaper reports out there regards Celtic FC and their paedophilia shame to fill the National Library. Why did the aforementioned "journalist" Mr. Mega choose to drag up a next-to-nothing story about a former Rangers youth coach who was sacked having said something untoward to a child?
The clues can be found on Mr. Mega's Facebook page, which lists his "sporting likes" as "Celtic; Neil Lennon; Kris Commons' Celtic's Midfield Maestro; CSC- Celtic Supporters Club; Henrik Larsson; Jimmy Johnstone - Lisbon Lion Legend". Mr. Mega-Failure also also features on the "107Cowgate" blog. 107 Cowgate just happens to be the birthplace of Irish Republican James Connolly. Purely a coincidence I'm sure. Well, purely coincidental unless you happen to know that the blog "107Cowgate" is run by disgraced Irish Republican activist Jim Slaven. Presumably The Sun newspaper considers this social misfit and his friends to be credible.
Point-scoring? Twisted? Fail Fail Mr. Mega. You are part of the problem. However we thank you for highlighting the differences in decency and morality between our own club and the perpetually and indelibly tainted organisation you support.
(1)Daily Record, 11th July 1998.
(2)Scotland on Sunday 18th August 1996
(3) Daily Record 12th August 1996
(4)Daily Record 13th November 1998
(5)Billy McNeil, Evening Times 13th November 1998
(6)Daily Record 13th November 1998
If you don't know their history, try: The Celtic Scandal - Silence Is No Longer an Option