Bheasts are causing mayhem all over the city of Berlin according to reports coming from the German capital.
Eight nonces were arrested following disturbances near the legendary SO36 Club as the small travelling Celtic support caused mayhem in the city, attacking locals going about their daily business. The Bheasts had encamped in Berlin ahead of tonight's game with RB Leipzig.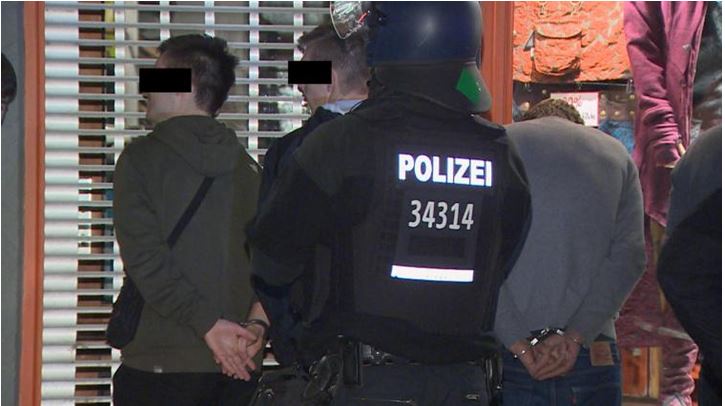 Nonces are handcuffed in Berlin
These vile creatures have a long history of taking second prizes whilst on their travels, having previously been on the receiving end of beatings and batterings in London, Amsterdam, Milan and Warsaw.
One local, who did not wish to be named, said "we had heard about the reputation of Celtic as the paedophile club and were wary of going near their supporters but we now find they are attacking women and children. They are scum".
Looking on, an American tourist visiting Germany for the first time shook his head in disdain and stated "New York got the Westies…….Glasgow got the Fred Westies. These Bheasts are absolutely vile".
A spokesman for some boring self-pitying Plastic Paddy group who claim the world is against anyone of Irish Catholic descent commented "this is further proof of anti-Irish, anti-Catholic bigotry. The German police clearly targeted these young men because they are Irish Catholic nonces. From Glasgow. We'll be urgently seeking Paypal donations from gullible Bheasts to raise money to demonstrate outside the German embassies in Dublin and Barbados."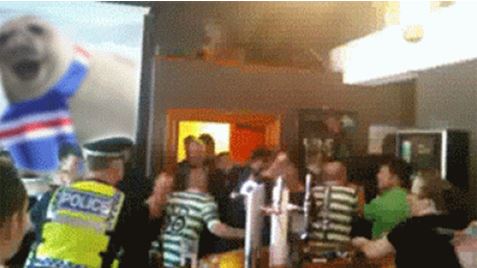 Above, anti-Irish, anti-Catholic Scottish police spray rancid Bheasts with deodorant