It has come as no surprise to see The Kerrydale Kiddyfiddling Klan suddenly find their voice. They are causing an almighty fuss over the performance of a referee, having been played off the park by Rangers on 29th December. Isn't it curious that over the past six years referees have been just fine, and it's only after a defeat by Rangers that the whistlers and their families incur the wrath and death threats of the Bheast?
Rest assured, it can only now be a matter of time before the S.F.A. Compliance Officer issues a string of "charges" against KKK F.C., just as she did when Rangers commented on the lies of referee Willie Collum. I'm sure she's busy compiling the paperwork as I type…..
One would also be forgiven for suspecting that the KKK are trying to deflect from more serious matters pertaining to up-coming court cases and the sentencing of their paedophiles. The Club Like No Other trying to cover up the cover-up? Well I never.
A reminder:
Documents filed at Livingston Sheriff Court allege young boys aged between just 12 and 15 years old were victims of indecent assault and lewd, indecent and libidinous practices at the hands of Celtic official Jim McCafferty. Many of the offences are alleged to have been committed in the Celtic Park dressing room.
He is also charged with sexually abusing children during football tours in Germany and Austria. In total he is accused of molesting 18 children whilst employed at Celtic Park, including one charge of sodomy.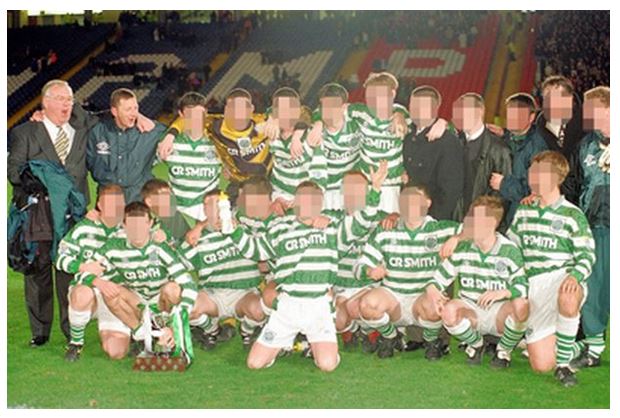 Celtic coach Jim McCafferty (far left)
The Big Paedophile Case begins later this month.
Things are going to get much, much worse for KKK F.C.
It's not going away you know.