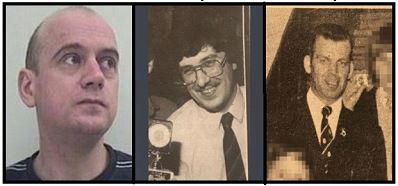 James Torbett
Twice-convicted Celtic paedophile Jim Torbett formed Celtic Boys Club in 1966 with the approval of Celtic manager Jock Stein. He regularly sat in his Directors Box seat at The Theatre of Shame with his friends and business partners, former Celtic F.C. Chairmen Kevin Kelly and Jack McGinn. Celtic F.C awarded his company a £1 million contract. At his trial the jury were told that lifelong Celtic supporter Torbett used to take children to his flat and teach them the words of IRA songs – before well as molesting them.
Francis "Big Frank" Cairney
Convicted Celtic paedophile Francis "Big Frank" Cairney was appointed Chairman of Celtic Boys Club following the departure of Torbett and the subsequent Celtic F.C. cover-up as to why he left.
At Cairney's trial, Hamilton Sherriff Court heard that he had sexually molested Celtic youths in the dressing room at Celtic Park. In addition, he abused a 14 year-old boy between September 1969 and December 1972 and a 15 year-old boy between January 1985 and December 1986 at Celtic F.C.'s Barrowfield training ground. The court was also told that Cairney was paid by Celtic F.C. to act as a scout.
Jim McCafferty
Convicted Celtic paedophile Jim McCafferty was employed by Celtic Football Club as a coach and kitman. He was convicted at Livingston Sheriff Court of molesting young boys aged between just 12 and 15. The court heard that he tried to rape one victim in the home dressing room at Celtic Park. He is also convicted of sexually abusing children during football tours in Germany and Austria whilst he was at Celtic F.C.
Gerald King
Convicted Celtic paedophile Gerald "Gerry" King is another former Celtic Boys Club Chairman. Kings' convictions included "taking or permitting to be taken, indecent images of children at Barrowfield Football Park at the city's London Road" as well as exposing himself to children. "Barrowfield Football Park" would be more accurately described as the (then) official training premises of Celtic Football Club. King's victims were aged between nine and thirteen years old at the time of the offences.
In the summer of 1983, King joined senior players from Celtic Boys Club on a trip to Kearney, New Jersey, USA. He wrote an article for the official Celtic F.C. club magazine the Celtic View headlined "Trip of a Lifetime". For some children it most certainly wasn't. It has been claimed that King received regular "expenses payments" from Celtic Football Club. King also worked for twice-convicted Celtic paedophile Jim Torbett at the business he (Torbett) ran with former Celtic F.C. Directors Kevin Kelly and Jack McGinn.
Neil Strachan
Convicted Celtic paedophile Neil Strachan, the secretary of Celtic East Boys Club (Edinburgh), was a leading figure in a depraved paedophile ring. His list of convictions reference the rape of children, sadism, bestiality, indecent images of children and molestation of children as young as 18 months old. At the High Court in Edinburgh he received a life sentence. The court heard that Strachan, who is HIV-positive, was "sadistic and aggressive".
Prior to conviction Strachan had quit as secretary of Edinburgh-based Celtic East Boys Club after it was discovered he had abused a boy of just 5. The abuse had gone on for two years. It has always been claimed that Celtic F.C. had no link whatsoever to the Edinburgh-based Celtic Boys Club. The claim was yet another Celtic F.C. lie.
John Cullen
Convicted Celtic paedophile John Cullen was on Celtic Football Clubs' payroll as official photographer for 30 years. He admitted taking pictures of naked and semi-naked children as young as ten after cleaners had found in excess of 250 images in his store room at Celtic Park. The perverts' photographs had been there for more than 20 years. He also admitted inviting the children to a house in Glasgow between January and December 1982 before getting them to pose for the camera. He pled guilty to a charge of lewd and libidinous behaviour.
Lyness Malley
Lyness Malley, a former coach and official at Celtic Boys Club has been accused of repeatedly abusing a young player at Barrowfield, the Glasgow training ground owned by Celtic F.C. It is alleged he rubbed oil on a boy in the changing rooms on multiple occasions and touched his genitals and buttocks. Malley, served over decades as a coach, treasurer and minutes secretary with Celtic's youth wing.