To the law abiding citizens of Glasgow, especially if you are a Rangers fan, it has been brought to our attention that it may not be a good idea to socialise in the centre of Glasgow this weekend. The unsavoury element of the Celtic support, the Green Brigade, have a visitation from a faction within the Feyenoord fan base arriving this Thursday and staying for their match against Aberdeen game on Sunday, 1st of March.
The 120 Feyenoord fans that are arriving are not planning a friendly visit going by social media communications. There are threats of smashing up Glasgow this weekend and attacking "Huns" in Sauchiehall St. The Green Brigade are inextricably linked to this visit as shown below.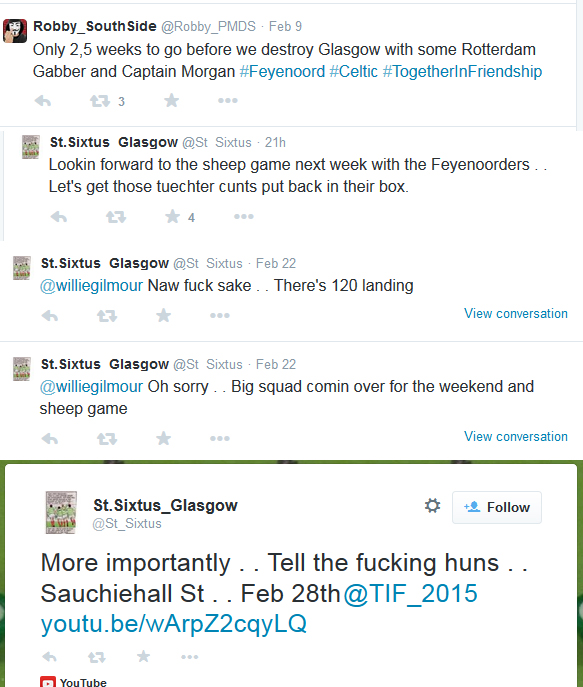 There has been extensive planning behind this visit to the point where venues were booked to hold events, initially Victoria's nightclub and after that was cancelled the Kellar Bar in Queen St.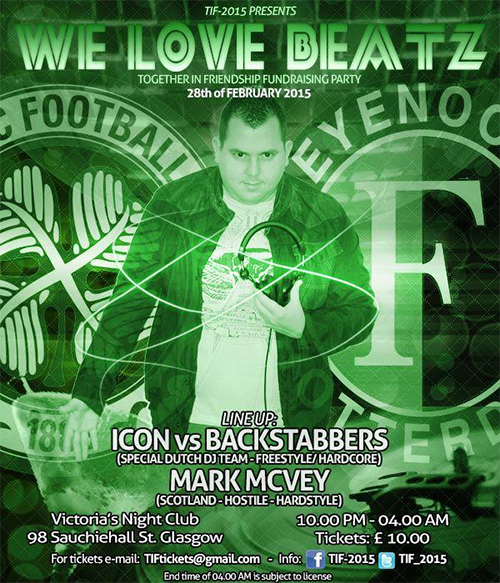 Vanguard Bears are not the only ones to notice the potential for trouble this weekend. Police Scotland are aware and we believe have advised the Kellar Bar to cancel the event for the fear of the disorder it could cause. These undesirables are now scrambling to find a venue to host the event, with club owners now realising that their venues licence will be at risk.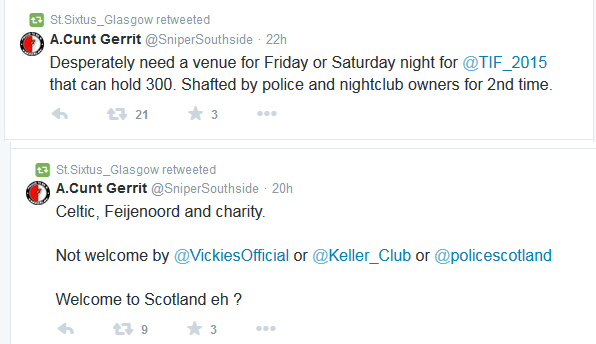 As for the match on Sunday it is no coincidence that both sets of fans see Aberdeen fans as a target for trouble. There is no love lost between the Dutch fans and their North East counterparts after Aberdeen fans caused trouble at last year's UEFA league qualifiers in Holland. Combine that with the Celtic fans hate of them and the picture is complete.
Whilst it may seem an unlikely partnership, it is clear that both sets of groups have the same vile hatred for certain religious groups. If their graphics are representative, both groups show their hatred of those of the Jewish faith and that of Protestants, or "Huns", using their sectarian terminology.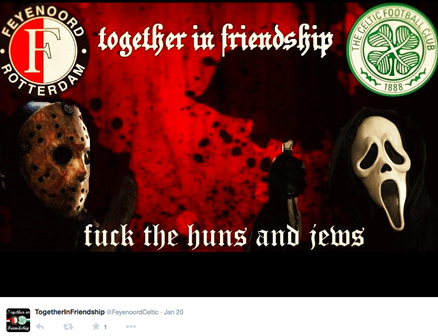 They have shown again on social media that they intend to cause trouble and shame the club that has no shame for the umpteenth time.
As mentioned before, one of the organisers of the meeting is a Paul Lee (@St.Sixtus on twitter). Lee is a Celtic Green Brigade member and a Feyenoord fan. He spends his days on twitter spouting his bile against Protestants and The Queen. He has in excess of 76,000 tweets to his name, ranging from the moronic and unsavoury to the sectarian and hate-filled.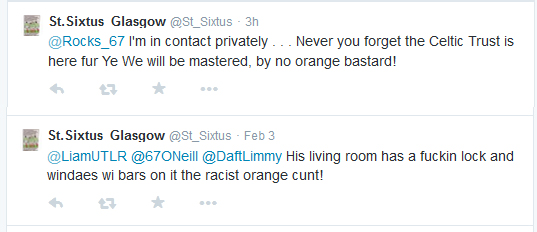 Given that Police Scotland are aware of the events that are planned for this weekend we are surprised that if they are monitoring social media (as they claim they do) that they haven't taken action against Paul Lee on the basis of his tweets. It would seem he wishes to pass his bigotry and hatred onto his son, who plays for Partick Thistle. Lee thinks it's acceptable to tweet a picture of his son heading to play for Thistle's youth team with the words "Partick Thistle IRA" alongside.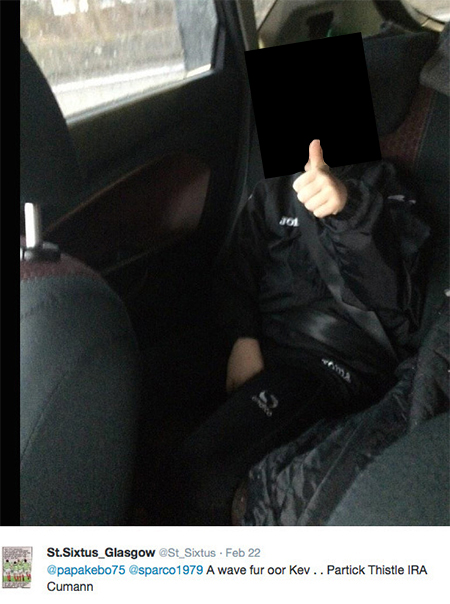 So, Rangers Fans and the people of Glasgow, you have been warned by us, even if the Police or the media don't want to warn you. Then again they seem far too busy trying to sully the name of our club for singing songs than warn you of potential trouble and violence.