Last week, the Deputy First Minister for Scotland, Nicola Sturgeon, posed in front of a mobile billboard emblazoned with the logo "One Opportunity".
Outgoing First Minister Alex Salmond also had his own photo opportunity in front of the very same tagline. In one very telling picture, they posed together.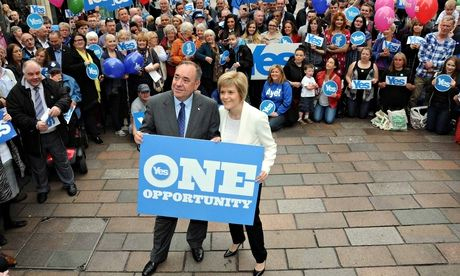 In the following articles Salmond states "In my opinion, this is a once in a lifetime opportunity,"
http://online.wsj.com/alex-salmond-once-in-a-lifetime-opportunity
http://www.theguardian.com/referendum-yes-no-agree-once-in-lifetime-vote
Fast-forward six days and both Salmond and Sturgeon, along with the increasingly erratic Jim Sillars, would like you to completely forget any of the proclamations about this being a "once in a lifetime opportunity" as they are now pushing an agenda to achieve independence against the sovereign will of the people who voted "No" in Scotland.
Let me be absolutely clear that less than 38% of Scotland's electorate turned out to vote "Yes". The SNP have no mandate and are not listening to the overwhelming desire of the Scottish people.
The SNP's leaders cannot, as a vile rapist does, force their will upon us, nor can they force their will upon the rest of the United Kingdom when the People of Scotland have said "No".
No Means No - accept it with some dignity please.