After seven years of meticulous planning, the Glasgow 2014 Commonwealth Games finally kicked off with the opening ceremony on Wednesday 23rd July at Celtic Park.
Behind all the benefits that Celtic Football Club have inherited from the Commonwealth Games, such as the disgraceful removal of the historic B-listed London Road School – a building that Celtic have been trying to remove for a while, or the massive amount of renovation work in and around Celtic Park (work which has been paid for in-full by Glasgow City Council), and of course the TWO new grass pitched to be laid after the ceremony (one as a back-up, should the first transpire to be not good enough), one would have imagined that the Republican-minded supporters of Celtic would've been delighted at this humongous state-aided transformation of their home ground.
One would also hope they would be happy to receive all these free benefits from GCC and leave the Commonwealth members and supporters to get on with the ceremony that had so much money spent on it, making it an event at Celtic Park to remember. It should be noted that on Celtic FC's website, the club's "Social Charter" states the following:
"Celtic acts as an inclusive organisation being open to all regardless of age, sex, religion, race or ability.
Celtic offers a welcome to all who come to Celtic Park and asks that they conduct themselves in a manner which reflects well on themselves and on Celtic.
Celtic aims to improve the conditions in which fans watch and participate in order to maximise the enjoyment of individuals and the crowd attending games as Celtic supporters. The Club seeks to provide a quality service for all its customers.
Celtic will adopt an equal opportunities policy in the areas of employment and service provision.
Celtic will aim to increase the attendance of children at football and aim to promote their participation in sport through a variety of activities. Celtic will aim to have close links with education authorities, schools and community groups through our Match Day Visits.
Celtic will act against racism and sectarianism in any form. Celtic will not tolerate actions and language that seek to promote racism and sectarianism. Celtic aims to support the guidelines issued by the Commission for Racial Equality.
Celtic aims to positively respond to the needs of all supporters to ensure that all fans are enabled to overcome any barriers to their participation in support of the Club. Celtic will consult with supporters with disabilities, sensory impairment or learning difficulties to ensure that the Club meets their needs as supporters.
Celtic will be pleased to work together with all organisations and bodies that share such aims for football. The Club will consult with employees, shareholders, supporters and supporters' representatives to ensure that all share the aims of Celtic's Social Charter. "
- taken from: www.celticfc.net/pages/corporate_opentoall
It is not uncommon for Celtic FC and their supporters to jump onto bandwagons and try to hijack events for their own personal gain. Recent events have shown us how Celtic supporters have latched on to the ongoing troubles between Israel and Palestine and standing 'shoulder-to-shoulder' with Palestinian terrorists through a love for their own terrorist group of choice, the IRA. We have also seen how their vicious attacks on their own Israeli player, Nir Biton, have been ignored by the Scottish media.
Here's a snippet from "Yes" voting Celtic fan Keir Letford who resides in Oban…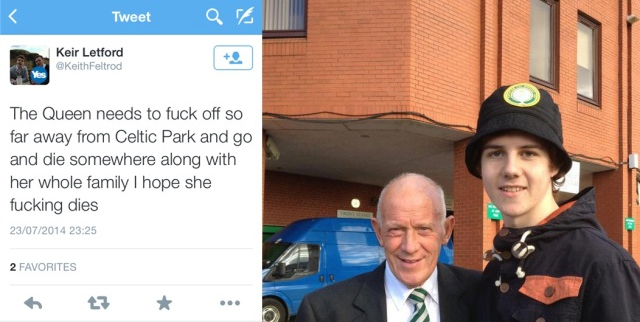 https://www.facebook.com/KeirLetford
Celtic supporters falsely proclaim to be a friendly "open to all" club who are family friendly and like a good bit of banter. This is merely a guise to hide their sectarian attitude and their hatred of all things British or Protestant, as I will show you.
There was no surprise at how supporters of this shameful football club perceived the opening ceremony, which much be brought to the public eye and some to the desk of Police Scotland.
Angela Haggerty is one name currently doing the rounds in Scottish media circles of being a "nasty human being", one who has an ill-fitting obsession with Rangers Football Club.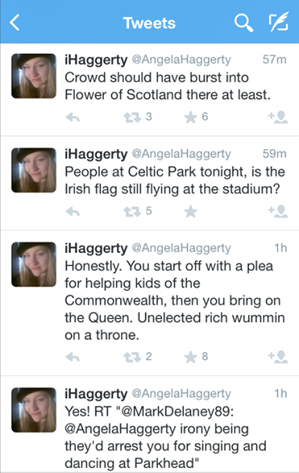 Haggerty's paranoia and hatred over the Games is quite evident. She is transfixed with the need for a foreign flag to be flying over a British Commonwealth stadium during the opening ceremony and is apoplectic at the thought of Her Majesty The Queen being in attendance. This horrible Celtic fan has recently been employed by BBC Scotland to discuss Rangers matters.
Why BBC Scotland felt the need to have this Republican, IRA-sympathising, anti-British, Rangers hater to discuss Rangers FC is of no surprise to any Rangers fan and is a common theme with the Bigoted Biased Corporation.
Then we have the common Celtic fans views on the events, such as Celtic fan Liam Brown from Pollok, Glasgow.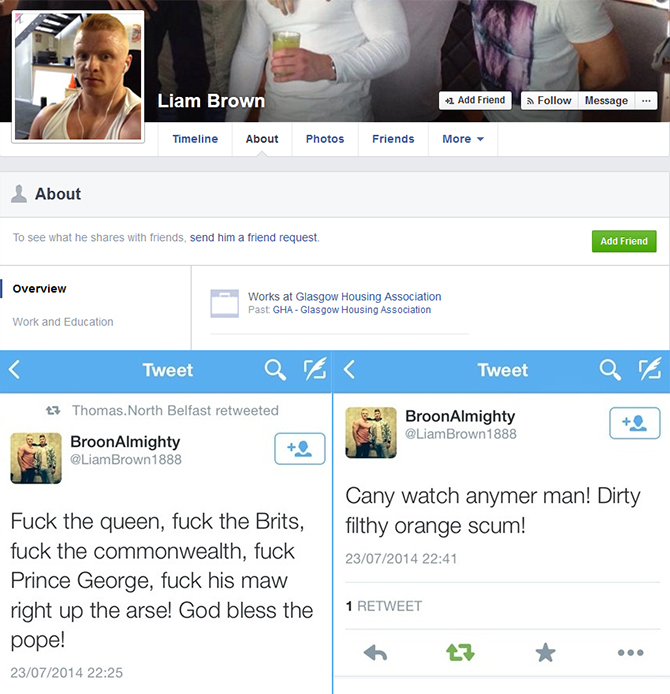 https://www.facebook.com/liam.brown.359778/about
The above tweets should get Liam into a bit of bother, it is a bit over the top, don't you think? I wonder if his employers are willing to defend Liam, perhaps they share the same view as him?
As you will see from his Facebook page, in the working week and to the general public, Liam represents Glasgow Housing Association. Feel free to ask them their views by clicking here: @GlasgowHousing
Next, we take a look at Celtic fan Ciaran Gallagher from Coatbridge.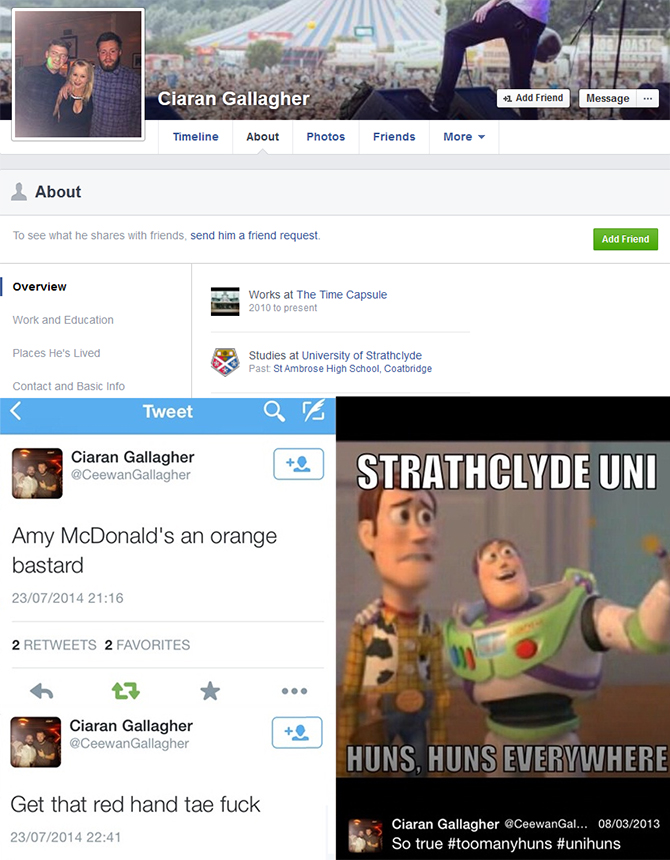 Not only has Ciaran labelled Scottish singer Amy Macdonald an "Orange Bastard", which alone is worthy of a jail sentence, nor has he complained that his University is full of 'huns' (a term deemed sectarian by Celtic FC) but he also demands that the flag of Northern Ireland be removed – the flag of the country which two of Celtic's recent, successful managers have represented.
https://www.facebook.com/ciaran.gallagher.370
Ciaran works at the Time Capsule in Coatbridge and studies at Strathclyde University.
All this hatred poured out because a flag of one of the nations of the Commonwealth Games was at Celtic Park. This is the disgusting attitude and mind-set of the common Celtic supporter.
You can contact Ciaran's employers here: @nlleisure and you can let Strathclyde University know of Ciaran's complaint here: @UniStrathclyde, perhaps you could point them inthe direction of this article?
Below is a collage of some other comments from Celtic supporters, most being made during the Commonwealth games opening ceremony. With a bit of further digging into some of these sectarian bigots you find more hatred oozing from their pores.
WARNING: Some of these comments are very vicious.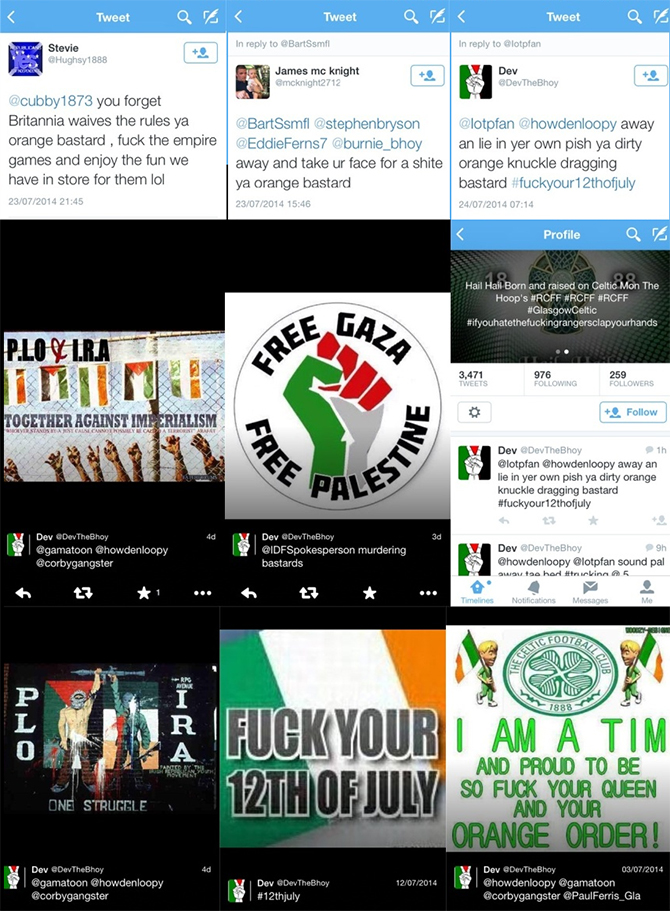 You see, Celtic FC are not the all-inclusive club that they proclaim to be, if anything they are the polar opposite. If you don't have republican sympathies then you are not for them.
If you believe these comments are out of order then you should try being a Protestant living in Scotland. Not only are we subject to daily abuse by these bigots, we are also demonised by the Scottish media who look upon ours as the sectarian-ridden club. Any astute observer will know that this nothing more than a last-gasp ploy for a dying industry to sell papers, playing to the gallery, as it were.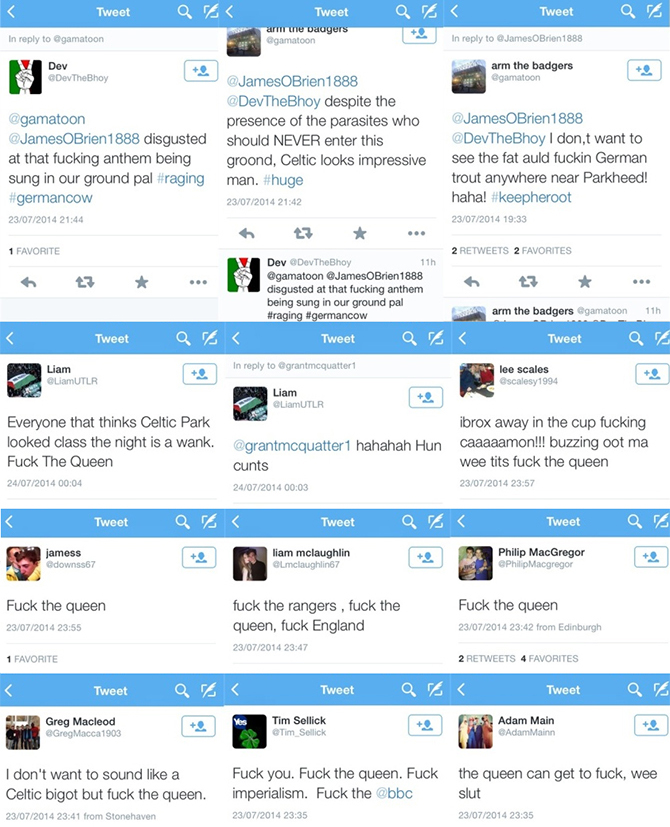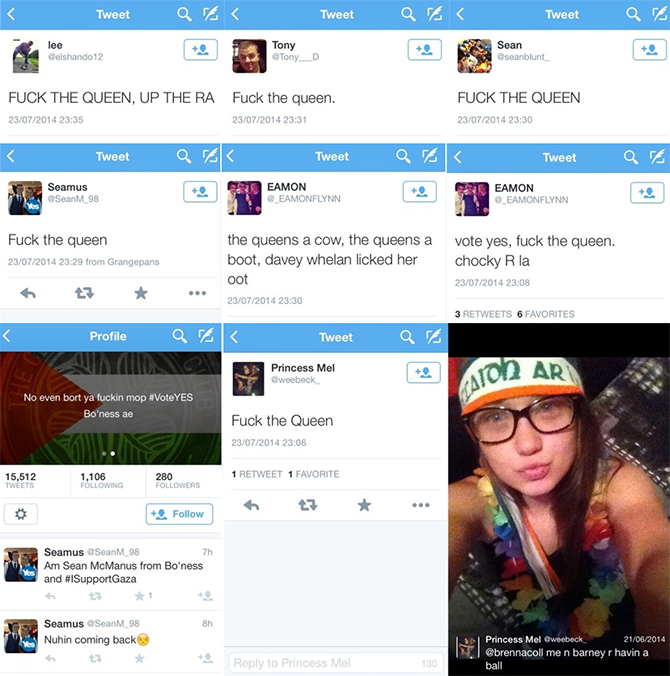 The examples shown highlight only a tiny amount of the abuse that occurred during "The Friendly Games" opening ceremony at Celtic fans' own (tarted up on public funds) stadium. Their hatred of all things British knows no bounds.
Surely we should expect Celtic Football Club to rid the sectarian hatred of all things British from within their stands? Or will they be more interested in retaining their dwindling customers? I think you know the answer to this already. I heard a phrase recently that sums the club up perfectly: "Hate The Crown - Love The Half-Crown".
This poisonous element of society has been with Celtic since their beginnings and their club is now nothing more than a breeding bowl of hatred. It will only get worse until the Club, our Government or Police Scotland take severe action.
To Be Continued: Check back here tomorrow!