On a day the internet is awash with details of yet another tragedy in America, where reports state that 'at least two die and 17 are injured' in a shooting spree outside a nightclub in Fort Myers, Florida, we find a potential gun crime in Scotland, openly suggested on social media, goes unreported.
When Neil McCann joined Rangers in 1998 for the sum of £1.9 million, he was widely abused by his own Catholic community. Indeed, there are stories which allege he was ostracised by members of his own family. Rangers fans welcomed McCann, his religion was never questioned. To this day, he is still regarded as the last great winger Rangers had.
As a media pundit, he is regarded as fair and honest, in my opinion, a rare trait in the media, where ex Celtic players line up to take cheap shots at Rangers. McCann can be critical. Often, especially under Ally McCoist, we deserved that criticism. Refreshingly, there was never malice in his punditry. There are Rangers fans who, having heard his analysis on television, would welcome him back as a coach.
McCann left Rangers in August 2003 for £1.5 million, having played 113 games and scoring 19 goals. He won three League titles and six Cup winners medals.
Fast forward to 6:02 pm, Sunday, 24th July. 41-year-old McCann, still vilified by Celtic fans having dared to play for Rangers, was the target of a sickening threat.
A man called Dave Ross, who identifies himself on social media as the owner of The Admiral Bar, 72 Waterloo Street, Glasgow, spotted Neil McCann in the commentator's gantry at Parkhead. Unlike previous Celtic fans shows of hatred towards anyone who ever wore a blue jersey, such as bananas being thrown at Mark Walters, a cigarette lighter being launched at Fernando Ricksen or countless episodes of coins being hurled at Rangers players and staff, Mr Ross went one step further.
The businessman, took an image of Neil McCann and tweeted 'If only I had a gun':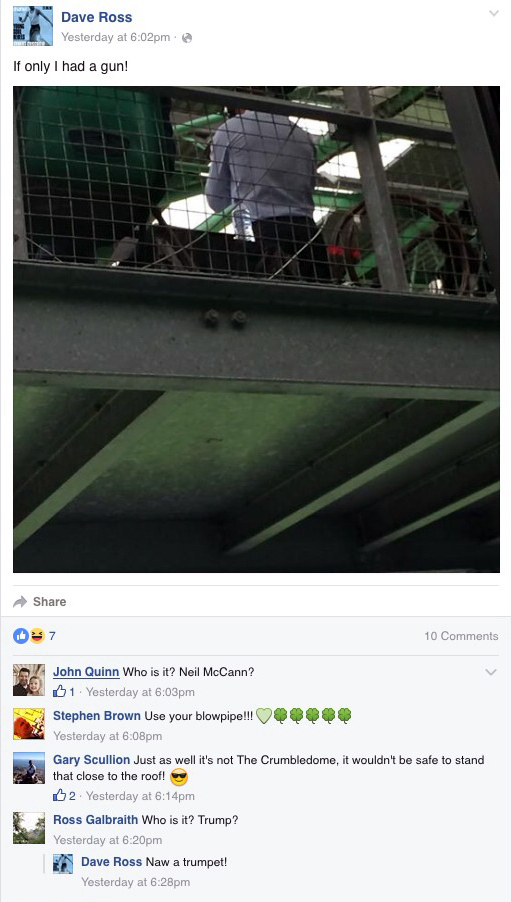 Mr Ross must be an important man. Here he is pictured with a member of Celtic's backroom team. The employee has TW on his tracksuit and bears an uncanny resemblance to Tim Williamson, head of Sports Medicine. It makes me wonder what Tim Williamson, or any member of the Celtic staff, would think of the vile threat issued by Dave Ross.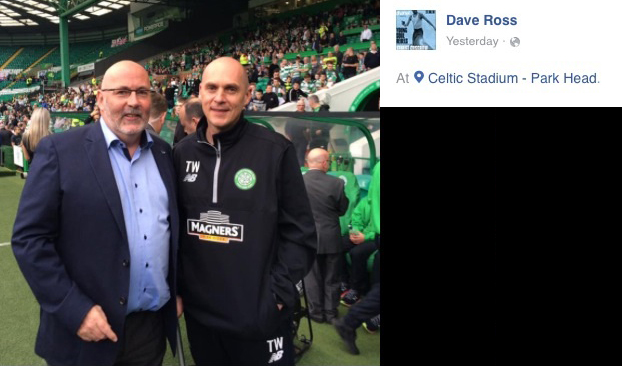 By writing 'If only I had a gun!' - does Mr Ross suggest that, were he in possession of such a weapon, he would shoot, wound, even kill Mr McCann?
By writing 'If only I had a gun!' - is Mr Ross committing a crime?
By writing 'If only I had a gun!' - has Mr Ross shot himself in the foot?
These images have now been passed to Police Scotland.
I await the media condemnation of Mr Ross.