Yesterday the Evening Times reported that "A primary school teacher has gone on trial accused of a string of sexual abuse charges against former pupils".
Mr. Gerald King, 66, stands accused of using lewd and libidinous practices towards seven children.
The "newspaper" rounded off the short article by stating that King "also faces a charge of taking or permitting to be taken, indecent images of children on various occasions between January 1987 and December 1988 at Barrowfield Football Park at the city's London Road".
For the avoidance of doubt – Mr. King is the same Celtic employee Mr. Gerald King who was Chairman of their youth wing Celtic Boys Club. His association with Celtic Boys Club dates back to the early 1980's.
In the summer of 1983, King joined senior players from Celtic Boys Club on a trip to Kearney, New Jersey, USA. Subsequently he wrote a Celtic View article on the visit, headlined "Trip of a Lifetime".
The Celtic View is Celtic Football Clubs official magazine. One could be forgiven for wondering why an official Celtic F.C. publication would run a story penned by a Celtic Boys Club official regards a foreign trip taken by an organisation they claim had nothing to do with them.
Strangely, when allegations regards Mr. King first surfaced, Celtic Football Club "asked anyone with concerns to contact them". Again, one could be forgiven for wondering as to why Celtic F.C. wanted children from a totally separate organisation who claim they were abused by Mr. King and/or others to contact them. How very strange.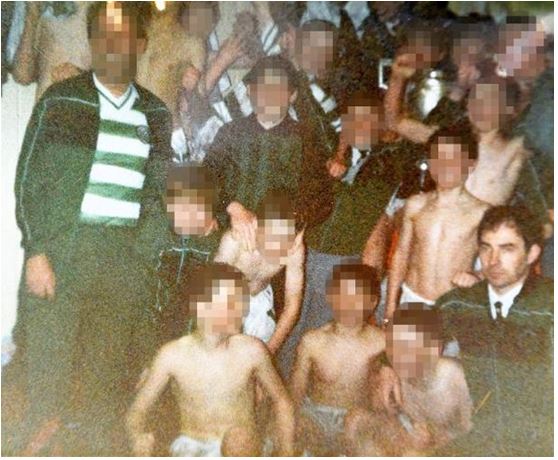 Gerald King bottom-right with his arm round a child during his time with Celtic
For further clarification – the "Barrowfield Football Park" referred to in the article is the same Barrowfield Football Park - owned by Celtic Football Club - where the Celtic first team trained for more than 30 years. The same Barrowfield football park where Celtic Boys Club - whom the disgraced Club Like No Other claim had nothing to do with them – played their home matches throughout the 1970's, 80's and early 90's.
Finally, it has been noted that Mr. King worked at Celtic paedophile James Torbett's Trophy Centre business. Celtic Directors Jack McGinn and Kevin Kelly were on the Trophy Centre board. Celtic accounts show that the shamed football club spent in excess of £1 million pounds on Trophy Centre goods, at a time when the club was on the verge of going out of business.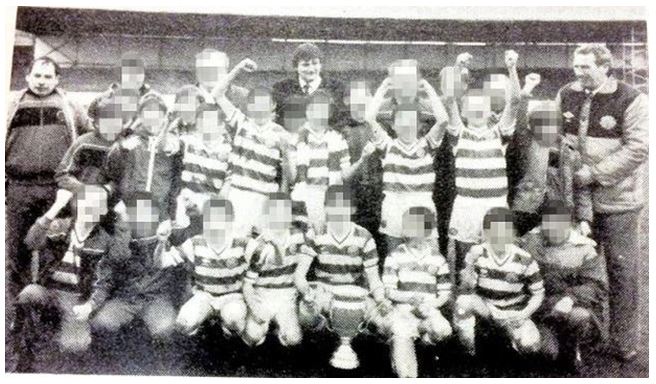 Gerald King (far left) pictured with Celtic Youth players and convicted Celtic paedophile James Torbett (centre). Far right Celtic coach Frank Cairney. Mr. Cairney is currently awaiting trial for paedophilia offences allegedly committed during his time at Celtic.
Whilst the Kerrydale Kiddyfiddling Klan may continue to "influence" and threaten weak newspaper editors, the truth will prevail.
The greatest sporting scandal the world has ever known is synonymous with the word "Celtic". A word which should be spat, not spoken, by all right-thinking human beings.