"The financial motivation is on the part of Celtic trying to do a Pontius Pilate job (which is) frankly horrific. Celtic need to open up to reality or they'll be facing their day in the civil courts" – Patrick McGuire, Thompsons Solicitors.
News reaches me of recent frantic behind-closed-doors meetings in the East End of Glasgow. With yet another Celtic paedophile having been sent to the Big Hoose, I'm reliably informed that the Club Like No Other are, in Glasgow parlance, "shiting themselves".
Last Friday Mr. Patrick McGuire, a solicitor representing some of the victims of Celtic paedophilia, left Radio Scotland listeners in absolutely no doubt re his determination to see justice for his clients. Despite the best efforts of the female interviewer to (twice) propagate the immoral "separate entity" defence being peddled, Mr. McGuire swatted her away.
Continuing with what seemed to be a line ignoring any semblance of the neutrality a tax-payer funded interviewer should espouse, she quite heartlessly inferred that children who had their lives ruined by Celtic monsters were only motivated by money. It would seem the BBC learned nothing from the Jimmy Savile debacle. Shameless.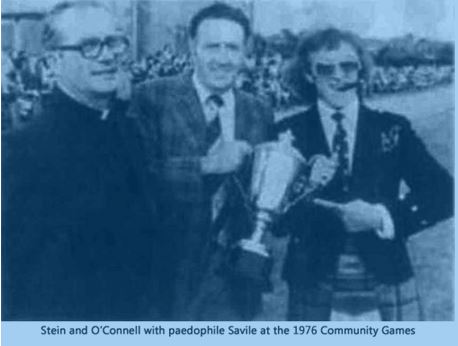 Above, BBC paedophile Jimmy Savile with Celtic Manager Jock Stein. It was stated in court that Stein knew of the sick child molestation of Celtic official James Torbett and conspired to cover it up
You can listen to the interview here:
https://www.youtube.com/watch?v=9YL3qSiL4H8&t=11s
Further, I have learned that more victims of Celtic paedophilia, previously reluctant to come forward, have become emboldened by the bravery of those who have given evidence and will now consider approaching solicitors with evidence and claims of their own. Reliable sources inform me that the number of claims could now reach 150 dependent on the outcome of The Big Paedophilia Case involving former Celtic coach Jim McCafferty, who amongst other charges stands accused of raping children in the Celtic Park dressing room.
In addition Celtic face possible legal action being considered Stateside by a former professional who went on to have a successful career away from Celtic.
Which brings me back to the clandestine meetings that have taken place over at The Theatre of Shame. Pontius Pete has a real dilemma on his hands. Do the Club Like No Other continue with the depraved "separate entity" fudge and face public humiliation not to mention the expense of endless civil court actions? Or do they attempt to quietly settle with the victims out of court, thus admitting their guilt in covering up sick crimes against children in their care?
What I do know for sure is this whole horror soap opera is snowballing at a rate of knots.
It's not going to go away.