"It was agreed, by (Celtic Manager Liam) Brady, the boy and his parents and the then Celtic board, that the police would not be informed. The young player was assured that the alleged incident would have no effect on his future career at the club. However, signed statements were taken by Celtic's lawyers from the four adults who had been on the New Jersey trip. All were sworn to silence". - Scotland on Sunday, 18th August 1996.
The above was reported regards a 1991 trip to Kearney, New Jersey during which a Celtic Boys Club player was sexually molested by convicted Celtic paedophile Frank Cairney. The article further stated that "the boys' father took him to Celtic Park to have it out with Liam Brady who was then only months in the job as team manager. The club's chief scout John Kelman was also present".
Separate entity you say?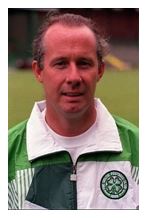 Celtic Manager Liam Brady. He Knew.
Fast-forward to present time and something strange has happened. Up until recently the Wikipedia page of Celtic C.E.O Peter Lawwell detailed the start date and finish date of his first position as an executive at The Theatre of Shame . Strangely the finish date has now disappeared.
_________________________________________________________________

"You've just got to be strong to your principles and do the right thing." - Peter Lawwell, Celtic Chief Executive on Celtic's ethos, September 2013. Sometimes there's just not enough vomit in the world.
_________________________________________________________________
In 1991, Celtic and their lawyers knew that a child had been sexually abused by their employee Frank Cairney. The whole sordid saga was covered up, leaving serial paedophile Cairney to remain a free man for more than 20 years. Such was the clamour to hide their shame Celtic even had the adults who were aware of the sick crime sign a non-disclosure agreement.
Last week Lawwell was locked away in frenzied conclave with The Club Like No Others lawyers as they attempt to limit the untold damage recent court cases have heaped upon them. Their efforts will be in vain. If Celtic were to win the Champions League tomorrow, they'd still be best known as the club at the centre of what is The Greatest Sporting Scandal of All Time.
For the avoidance of doubt, Peter Lawwell was employed in his executive position at Celtic during 1990 and 1991.
One wonders if fat bhoy is still laughing……