Last week, during a Channel 4 News Alex Thomson feature which focused on Celtic Football Club paedophilia, it was clearly stated that Celtic coach and kit-man Jim McCafferty was the centre of a cross-border child sex-trafficking ring. This comes as no surprise to those who have been closely following media reports as the Club Like No Other's multiple paedophiles are exposed and jailed one by one. Today, Thomson has tweeted that at least NINE paedophiles were operating at Celtic.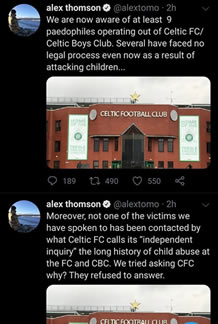 In 1996 supremely talented 15 year-old Celtic youth player Lawrence Haggart was brutally murdered in his own home by a serial paedophile. Brian Beattie battered the young lad to death then set fire to his body. Beattie was subsequently sentenced to life imprisonment for his appalling crime. During an investigation which was clouded by accusations of police corruption, former Celtic coach and kit-man Jim McCafferty was one of the suspects. McCafferty had been a regular visitor to the young players' home and had phoned him on the day of the grotesque murder.
That same year, McCafferty suddenly left his Celtic employ for what an unnamed Celtic spokesman described as 'personal reasons' after allegations of sexual impropriety towards young boys surfaced. Personal reasons indeed. Once again, as with other cases of paedophile employees uncovered at Celtic FC, serious questions must be asked as to why those running the club declined to call the police when the allegations came to light.
In December of 2016 McCafferty admitted to a newspaper that he had sexually abused 'around a dozen' young boys, five of whom he named. The BBC reported that he had sexually molested young Celtic players at his home in West Lothian. He was subsequently sentenced to 6 years imprisonment for 10 charges of indecent assault. The year before, the same warped Bheast had been charged and convicted in Northern Ireland of sexual activity with a child.
McCafferty had a close friendship with Celtic Boys Club founder James Torbett, a Bheast twice-convicted and jailed for the sexual molestation of young Celtic players. Torbett was a business partner of then Celtic FC directors Kevin Kelly and Jack McGinn, as well as McGinn's wife Anne. Court transcripts revealed evidence that Celtic manager Jock Stein along with Kelly and McGinn conspired to cover up Torbett's vile crimes. Also employed at Torbett's business was another convicted paedophile Celtic FC coach Gerry King.

Above: Celtic's paedophile harbouring officials Kevin Kelly, Jock Stein and Jack McGinn
Another of McCafferty's friends was Crewe Alexandria's Barry Bennell who was sentenced to 31 years imprisonment having been found guilty of 43 charges of historical child sexual abuse.
It is feasible that McCafferty's phone call to the young Celtic starlet on the day Beattie committed his murder was purely coincidence and perfectly innocent, however given his convictions and history, it is not beyond the realms of possibility that the phone call was made for more sinister purposes. Two paedophiles engaging with the victim on the same day - one by telephone and the other entering his home to commit the most heinous of crimes - arouses suspicion to say the least. During a recorded interview with the Daily Record, McCafferty stated 'I'm probably as bad as the rest of them….but I hope they're going to apologise the same as I'm going to be doing.'
Who 'the rest of them' are remains unclear. That there was a paedophile ring operating at Celtic Football Club is beyond doubt. Following Beattie's conviction the then Assistant Chief Constable of Tayside Police James MacKay accused police detectives of planting evidence, namely a hammer, to try and frame the victims' 12 year-old brother for the crime (Sunday Mail, June 5th 2005). Three officers of sergeant rank were subsequently disciplined with two being demoted (Sunday Herald, 10th March 2001). Detective Superintendent Jim Winning who led the investigation 'took early retirement', despite legal moves to block him from doing so by Deputy Chief Constable Mike Currie, aimed at forcing Winning to face a disciplinary hearing (Sunday Herald, 26th August 1998). This whole episode brings scandal and shame upon those paid and duty bound to uphold the law. The family, friends and society in general deserve a full and thorough investigation into events, individuals and organisations surrounding this tragic tale. Police Scotland (not to mention the Scottish Football Association) must leave no stone unturned in their quest for truth and justice.
Celtic Football Club shouldn't be allowed to walk away from this scandal. The eternally shamed Club Like No Other is synonymous with child sexual abuse and the cover up of the same. They are a stain on this nation.