At the first trial of Celtic paedophile Jim Torbett in 1998 it was revealed in a court of law that the disgraced former Celtic manager Jock Stein was aware of Torbett's sexual molestation of little bhoys. Rather than do what any right-thinking human being would do and call in the police, Stein chose instead to instruct his staff to cover up Torbett's vile crimes.
"Jock Stein and the Celtic board covered up allegations made against Boys' Club founder Jim Torbett, a court was told yesterday……..Celtic manager Stein and the directors were anxious to keep the image of the club clean…….. I was told by Jock Stein to keep the name of Celtic Football Club clean at all times" (Daily Record 11th July 1998)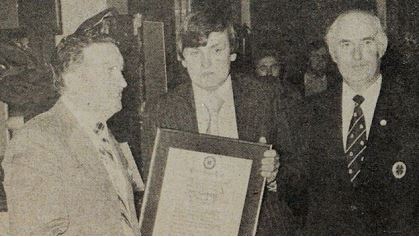 Enabler Jock Stein presents twice-convicted Celtic paedophile James Torbett with an award. Looking on, Celtic Boys Club Chairman Hugh Birt, who was told by Stein to cover up Torbett's heinous crimes
"Shame on every person who played a part in that cover-up; because for every abuse that was brushed under the carpet, the perpetrator went on to ruin other young lives……..What Stein should have done was call the police. But he didn't – because reputation and image were paramount. Never mind the fact that young lives have been trampled on by someone who should be behind bars. Keep it quiet and 'in-house' was the unspoken mantra" (Daily Mail 3rd December 2016)
That Stein and the Celtic Board of Directors covered up the crimes of their paedophile employees is beyond any reasonable doubt. If there was any degree of justice for the victims, Police Scotland would be arresting those still alive, like former Celtic Chairmen Kevin Kelly and Jack McGinn, both of whom played major roles in the conspiracy. Covering up depraved crimes is a crime in itself.
"During my investigation, I spoke to one promising young footballer who claimed he was abused on a trip abroad. After he went public with his allegations, Celtic banished him. He was left knowing he may have ruined his chances of making it big because he had tried to 'out' his abuser. Yet he was already ruined – and would carry the baggage of abuse for the rest of his life. I had been investigating rumours about Celtic Boys Club for years, as had other journalists, but we were faced with denial after denial from the club. What angers me more than anything as I watch today's events and look back at the Celtic scandal, is that this serial abuse could have been stopped years ago. It was staring them in the face for years, yet they did nothing. They are guilty of criminal negligence. (Daily Mail 3rd December 2016)

"Within hours of the story hitting the streets, and the newspaper setting up its abuse hotline, dozens of calls had come in and another man - Frank Cairney, the man who had been brought in by Jock Stein to get rid of the smears and innuendoes which for years had hung around the boys' club - was also being named as an abuser…….(Celtic Official) Birt claims he was concerned about the behaviour of both Cairney and Torbett and raised the matter with the club. Before he knew it Birt was asked to resign. When he stood his ground and refused, he says, Celtic withdrew his ticket to the directors' box and he had no option but to get out" (Scotland on Sunday 18th August 1996)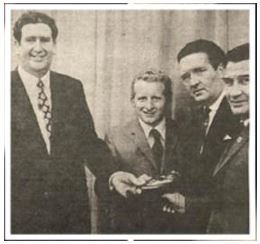 Stein with convicted Celtic paedophile Frank Cairney (far left)
Now it would seem new evidence has come to light. A brave, brave man who was a victim of Celtic paedophilia and the cover up of the same tweeted this yesterday: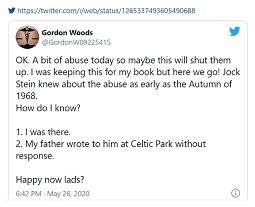 Big Jock Knew about Torbett's grotesque crimes as far back as 1968 and chose to cover them up.
And still the depraved organisation that is Celtic Football Club persist in having a 12-foot tall statue of the paedophile harbourer Stein in front of their stadium.
They truly are a Club Like No Other.