"I was dealing with an organization that didn't give a rat's ass about children, that cared only about itself and that was covering up rape"
Above, a quote from the Netflix Documentary "Athlete A". If you haven't already, you really should watch it. The similarities between the sexual molestation and rape of children at USA Gymnastics and the sexual molestation and rape of children at Celtic is startling.
Moreover, the similarities regarding cover-ups in both scandals leave many questions unanswered here in Scotland.
What should be noted is that monster Larry Gerard Nassar who was molesting little girls at USA Gymnastics was found guilty and sentenced to 120 years in prison. The monsters who were molesting little boys at Celtic received sentences that will see them freed in a year or so. One received no custodial sentence with a Sheriff preferring community service and is currently free to walk the streets.
The President and CEO of USA Gymnastics Steve Penny – who resigned in 2017 – was arrested in 2018 and charged in relation to covering up Nassar's crimes. Were former Celtic manager Jock Stein alive today he'd surely have been facing charges after it was revealed in a court of law that he directed Celtic officials to cover up the sick crimes of Celtic monster Jim Torbett. Instead survivors have to suffer the humiliation of Celtic F.C. putting a statue of this shameless individual outside their front door.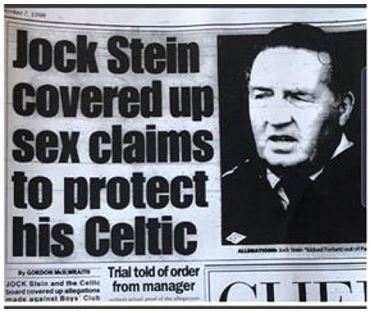 Jock Stein instructed Celtic staff to cover up the vile crimes of Jim Torbett
Other Celtic officials, including directors Kevin Kelly and Jack McGinn were also aware of Torbett's crimes and allegations remain that they chose to cover them up rather than contact the police. In the US case, the Senate were told that USA Gymnastics and the US Olympic Committee "knowingly concealed abuse by Nassar, leading to the abuse of dozens of additional amateur athletes". Now where have we heard that before?
Which brings me to another quote from the documentary;
"For some reason, the FBI took no action"
US Congress has declared that U.S. Olympic Committee (the SFA?) and the FBI, "fundamentally failed" to protect children from monsters operating in the shadows of the sporting world. Sen. Richard Blumenthal, described the actions of the organizations as a "cover-up." The FBI are also currently under investigation with suggestions they colluded with USA Gymnastics to cover up the whole sordid affair.
Here in Scotland serious questions need to be asked of Justice Minister Humza Yousaf. His conduct throughout has been nothing short of a national disgrace. Questions remain over the brutal and tragic murder of a young Celtic player by a known paedophile and the relationship convicted paedophile Celtic F.C. coach and kit-man had with the player.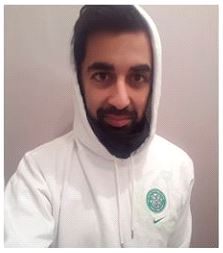 The documentary also revealed the survivors of the sick pervert Nassar were subject to all sorts of horrendous abuse on social media from anonymous scum supporting USA Gymnastics. Those following the Celtic scandal here in Scotland will have witnessed supporters of the Club Like No Other, the absolute dregs of sub-humanity, conducting a similar campaign against survivors and their families.
In the coming months a documentary or two will be made about Celtic and what remains the Greatest Sporting Scandal of all time. Perhaps they will end up on Netflix.
The disease known as Celtic can hide their eternal shame no more.