Many thanks to the Celtic Chairman Ian Bankier for confirming what we all know already; supporters of Celtic are vile "criminally racist" scum. At least he had the decency to admit it, following revelations that Celtic Director Ian Livingston had been forced to go public regards the anti-semitic filth he'd had to endure at the hands of The Bheast.
The quotes are there for all to see; Celtic fan Michael Higgins said:
"Get this Ashkenazi cunt out of OUR club and take that other fake jew prick Biton (sic) with him. This is typical of their sort, infiltrating and destroying every country and establisment (sic) from within".
Another reptile, Ross Grant replied "He's a Jew what do you expect".

Fascism and racism have always been a trait of The Bheast. One of their favourite songs romanticizes the fascist "Sean South of Garryowen", who, as well as murdering a Roman Catholic policeman, was a member of the fiercely anti-Semitic group Maria Duce. Of course Celtic fans' love of the Nazi-collaborating IRA is well documented. Let's not forget that on September 17, 1941, the SFA announced that the Celtic ground would be closed for a month and during that period they would not be allowed to play on opponents' grounds in Glasgow, after those lovely Celtic fans had chanted "pro-German songs" in support of Hitlers murder machine.
Celtic supporters and their Nazi worship during the Second World War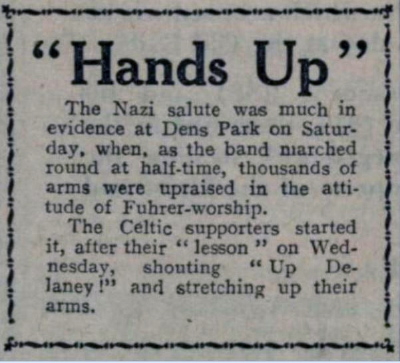 Fast forward to 1982 and the same creatures chanted "Malvinas" in a show of support for the fascist military dictatorship of Argentina, whilst British soldiers fought and died taking back the Falklands.
Moving on to 2nd January 1988, thousands of Bheasts were responsible for the single worst act of football-related racism seen in the UK, when Rangers black winger Mark Walters was showered with bananas by monkey-chanting Celtic fans wearing Ku Klux Klan hoods.
Former Celtic player Gerry Britton had this to say:
"As an apprentice professional with Celtic back in January 1988, I was appalled at the hideous racist goading of Rangers' black winger Mark Walters during his Old Firm debut at Celtic Park. I was even more sickened on the morning after the match when I was told to help clear the Parkhead trackside of the dozens of bananas that had been thrown onto the field by so-called Celtic supporters intent on upsetting the on-field focus of the Ibrox wing wizard."
Then in February 2000 there was the racist filth showered upon black Celtic players Ian Wright and Regi Blinker in the club carpark following a defeat, which led Wright to describe the abuse as "stone-age stuff from reptiles".
Once again, The Nazi Bheast is criminally out of control, and the authorities don't seem to want to do anything about it.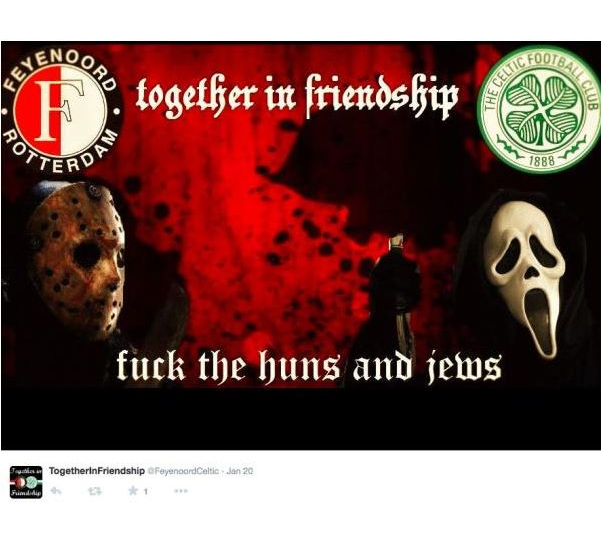 Above: An example of Celtic fans' unique brand of "friendship".