I'm sure you are all aware of the name Margaret Curran. For those of you far removed from the corrupt world of Glasgow politics, Margaret is a Labour MP covering Glasgow East. She is also the Shadow Secretary of State for Scotland.
Since she claims to have become involved in politics to oppose Lady Thatcher, I will playfully refer to Curran as 'Maggie' for the rest of this article.
Maggie has been drawn into the 'state-aid' investigation which the European Union are currently carrying out in relation to alleged cheap land deals and dodgy dealings between various local authorities and Celtic F.C.
The explosive Football Tax Havens blog informed us that on 11th October 2013 Maggie sat in on a meeting between the West of Scotland Housing Association (WoSHA) and Celtic F.C. to negotiate the sale of some publicly owned land.
By co-incidence, pressure was put on WoSHA at this meeting, to conclude this deal at a lower price:
http://footballtaxhavens/margaret-curran-a-shadow-over-transfer-of-land-to-celtic/
I wonder if Maggie, husband Rab or other family members are shareholders or season ticket holders at Celtic Park, and whether this could be considered as a financial gain and misuse of public office.
I am not one to jump to conclusions therefore I am willing to give Maggie the benefit of the doubt on this one, so let's have a closer look at her character, which may give us a clearer picture of our Shadow Secretary of State for Scotland.
Maggie is one of five children of Irish immigrants who she portrays as 'peasants'. Curran describes herself as an 'Irish Glaswegian' who was educated at Our Lady & St. Francis Catholic all-girl school in Glasgow.
Her Westminster profile lists 'football' as an interest. Her maiden speech at Westminster made reference to the East End of Glasgow being home to one of the "largest football clubs in the world" and of course refers to Celtic's stadium as "Paradise".
Maggie also heaped lavish praise on Celtic F.C. for getting involved with a veteran's interview initiative. The irony wasn't lost on her: http://margaretcurran.org/celtic-praised-for-veterans-support
On the subject of veterans, 'oor' Maggie was caught out during her 2008 by-election campaign when she pretended a Labour activist was a 93 year-old veteran. This was the same doomed campaigned which saw Maggie angrily refuse to apologise for misleading the electorate with an unfortunate wee oversight regarding her residence. Maggie claimed she had lived in the East End constituency all her life, although for the previous twenty years she had lived in the South-Side.
An aide tried to qualify this 'error' by suggesting that this was a genuine mistake because she was making a speech without notes. Now I will admit, I have often forgotten where I lived, but only at 3am after a night on the town! I guess that if you suffer from occasional memory lapses, you need everything written in front of you.
Another 'mistake' that was made by Maggie was when our paid representative denied knowing Dennis Healey. Maggie joked that she 'was not around' when Healey was serving in office. The problem with statement, however, is that whilst Healey was the Labour Chancellor, Maggie was the vice-Chair of the Glasgow Uni Labour Club. A position she resigned from in 1980 amid allegations of an attempt to rig the conference of the National Organisation of Labour Students.
All of this scandal without even mentioning that Maggie was the election agent for Mohammed Sarwar when he was charged with election offences in 1997.
Finally, before summarising, a look at the link below will show you that Maggie's promise to 'fight hard for Glasgow East' also seems to be inaccurate. Maggie is below the average MP for oral questions asked, and for vote participation. With expenses of £171k and £159k in the past two years, she is, confusingly, above the average for expenditure.
http://www.theyworkforyou.com/margaret_curran/
Many requests have been sent to Maggie for information regarding that meeting between WoSHA and Celtic F.C. All have been ignored. Maybe with her record of 'selective amnesia' it just saves us being subjected to more unfortunate memory lapses? Maybe the silence is a sign of her intention to keep facts away from the public eye? I don't know. What I do know is that it is not proper, some may say, that an elected representative of the people of Glasgow East ignores her constituents when they raise questions of a serious nature.
I will let you make your own mind up as to whether the Irish Glaswegian, Catholic school educated lady who refers to Celtic F.C. as one of the world's largest clubs, refers to their den 'Paradise' and lists football as an 'interest' may have shares or season tickets at Celtic Park.
OR
You can send Freedom of Information requests to parliament, attend Maggie's surgeries, or complain to the standards commissioner if you are ignored: standardscommissioner@parliament.uk.
The truth will come out.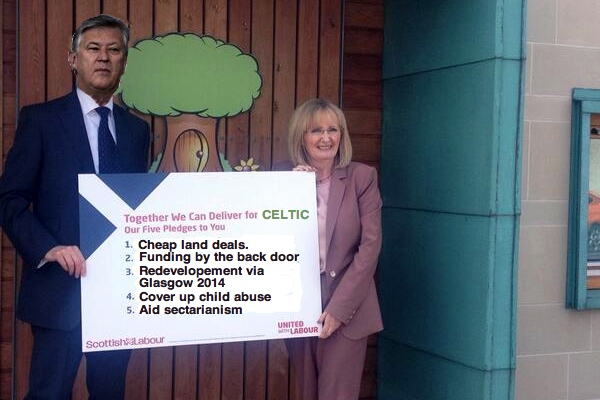 Follow: @GCCExposed for more.