The football sexual abuse allegations that have hit our news reports are frightening, disgusting, sickening and… well we could call it every name under the sun but I wonder about the integrity of it all.
Four short years ago a football club hit the financial skids because of "bad management". Every journalist from Tom English to Alex Thomson wanted a piece of the action. Every newspaper from the Record to the Sun wanted a piece of the action.
The SFA called for, and opened investigations into the historical use of EBT's by Rangers Football Club, finding them guilty before trial, docking points, fining them and asking other member clubs to demote them to the lower echelons of the Scottish game.
Politicians and lawyers asked questions, Peter Lawwell called for sporting integrity "at all times" saying clubs must live by the rules. Oh, the irony Peter!
Let's fast forward to the present day and discuss the latest abuse scandal to hit our game. Does every journalist want a piece of the action now? Do English and Thomson want a piece of the action now? Please remember this is nothing new to Scotland, we all remember the case against James Torbett of Celtic Boys Club.
Celtic FC have again been drawn into the scandal but it seems the media in this country would rather worry about a coach that Rangers sacked after his previous club - Hibernian - failed to warn future employers about his actions. The arrest of a once Celtic coach has been met with silence from our media in such that they call him a "former coach" instead of "former Celtic coach"..
Journalism is absent with these hacks' silence.
They were quick to dig into the history of Rangers and their tax issues. They wanted the Club thrown out of everything. Blog after blog, expert after expert, they all gave their opinions. "Rangers should be made pay for their tax avoidance." "Dock points", "Remove trophies", "Close Ibrox", "Ban the club", every man and their dog had a dig. Scottish football supporters were urged to boycott Rangers...
...We all know. We were there.
Is it not strange that these same journalists, clubs, politicians and blog writers are not demanding investigations? Do I hear the SFA demanding Celtic Football Club be investigated for historic abuse? Do the fans of those same Scottish clubs accept the abuse as the norm? Are the fans of Aberdeen, Dundee, Inverness etc. asking for boycotts?
Is Peter Lawwell asking for sporting integrity at all times? Is Scottish Football asking for points to be docked or trophies to be removed… Remember this happened to Penn State College (American) Football Team, who themselves were found guilty of an equally abhorrent, yet much smaller case of paedophilia and management cover-up, than what is being uncovered within Celtic FC.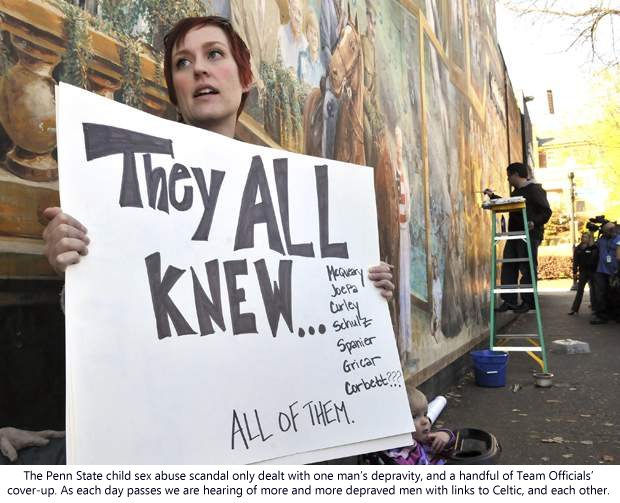 It appears tax abuse is more important than child abuse in this country. All we hear from Celtic fans and 'journalists' is that others are "point scoring." No, we are not point scoring, we expect that same sporting integrity as was used before.
Study the reports on this scandal. The carefully chosen phrases and selective words used (or indeed omitted) by the media so as not to upset certain people. It is a reporter's job to delve into the background when reporting to the public domain. While we may not be happy with some stories, they are always portrayed as being in the public interest. Journalists dug deep into Rangers financial situation - going back years and years - to find the root of the problem. Television programmes were produced to tell the public of the nasty tax avoidance of a football club and of how that tax avoidance was denying children of much needed care and attention.
Well I am waiting on those same people digging deep into the background of Celtic FC, raising the Torbett case again, producing the television programmes looking after the public interest, protecting those very same children from an evil far, far worse than accounting administrational errors.
Let's hear Peter Lawwell speak of what he is doing about historical goings on at his club.
Calls for football clubs to be included in the Scottish inquiry into historical child sexual abuse has been rejected by Nicola Sturgeon who suggested:
"To widen the remit of that inquiry would mean that it would take perhaps many years longer to conclude its investigations and would risk it becoming completely unwieldy."
That's fine First Minister, as you have done by ALSO choosing to protect religious organisations from abuse investigations, just you choose to protect the vile creatures that prey on the young, impressionable and vulnerable. Is this the most deplorable strategy for winning votes this country has ever seen? You disgusting individual!