As the child abuse scandal currently shaking Scottish football rumbles on, it's plain to see that Celtic Football Club sit uncomfortably at the top of the league table when it comes to paedophiles who operated in their midst. Only the most one-eyed, shameless of Celtic supporters – and unfortunately there seems to be a lot of them – could deny that Celtic have a huge headache. To their continued opprobrium there appears to be a policy of omerta from the Parkhead hierarchy, with rent-a-quote Celtic CEO Peter Lawwell and his posse of on-message journalists apparently having suddenly lost their tongues. Is there still a reluctance to put the welfare of children before "keeping the name of the club clean at all times" at Kerrydale Street? It's high time Lawwell broke from his bunker and answered that question. Celtic will be judged not only by their flagrantly reprehensible history in this regard but also by their conduct now and in future. To date, their response - or lack of it – has been ignominious.
Serious questions must also be asked of Nicola Sturgeon's SNP, who appear to be determined to shirk any obligation for an enquiry into historical child abuse in football. Speaking on BBC Scotland's Sunday Politics show, the bumbling John Swinney crudely attempted to switch focus and responsibility from his party to the Scottish Football Association. Are the football allegiances of SNP MP's and MSP's and the potential votes from supporters of certain football clubs more important to the SNP than a heartfelt in-depth investigation to find out what went wrong and hopefully negate the possibility of any repeat?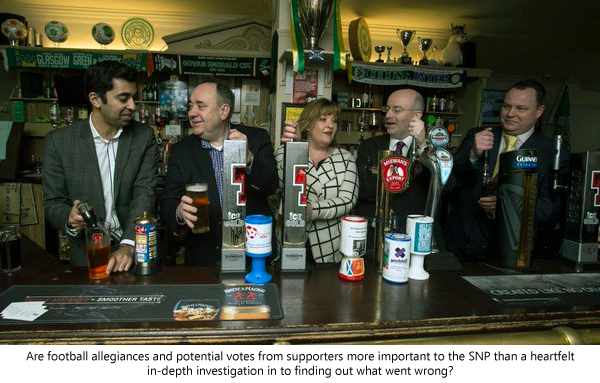 Meanwhile the Stewart Regan led Scottish Football Association fiddled as Rome burst into flames. With revelations that his predecessors offered a tour of Hampden Park to a victim of one of their officials by way of some form of warped compensation, the SFA are left looking callous and unemotional when it comes to the most horrific of crimes. Bowing to pressure they eventually caved in and announced they are to hold a "review" which would focus on "processes and procedures" in place both currently and historically in Scottish football. An unnamed spokesman for the SFA had earlier stated the organisation was "open-minded to an independent review but with the right scope and terms of reference". Quite what the deliberately nebulous "scope and terms of reference" are remains a mystery. Notably there is no mention of terms like "full enquiry", "sanctions" or "punishments". Please expect a whitewash.
The graceless Swinney did however get one thing right when he stated that any enquiry (note the word "enquiry") should be led by an "authoritative, independent, respected figure" who could consider the issue "without fear or favour". With continued suspicions that football loyalties dangerously cloud judgement in Scotland, the chosen individual must come from out with this country. Hibernian Football Club is another that stands accused of the cover-up of child abuse. Should the SFA decide to do the decent thing and hold an enquiry, SFA Vice President and Hibernian Chairman Rod Petrie must play absolutely no part in proceedings.
In looking for someone with the legal background and case experience of child abuse in sport – and its cover up – two names stand out when it comes to chairing any independent (and I repeat, it must be totally impartial) enquiry. Pennsylvania Attorney General Linda Kelly led the prosecution of a paedophile operating at Penn State Nittany Lions football club. Louis Freeh, a former director of the FBI, conducted the subsequent enquiry into the sexual molestation of children at the club and the cover-up by officials of same.
Lawwell, Sturgeon, Swinney and Regan must speak out and seek answers – even where those answers will cause them discomfort. No more whispers in darkened corridors. No more shameful cover-ups. The victims of the vile criminals operating at certain Scottish football clubs deserve justice.