Yesterday, Kenny Campbell, a victim of twice-convicted Celtic Paedophile James Torbett criticised the disgraced football club for their continued denial and lack of empathy:
Mr. Campbell stated he is angry at the way Celtic FC has tried to disassociate itself from Celtic Boys' Club since the sexual abuse became public. He said: "Now you hear this attempted disassociation between Celtic Boys' Club and Celtic Football Club. When I was there Celtic Boys' Club was the feeder club to Celtic Football Club. Any functions we were at, there were Celtic players there, Celtic management there, there were Celtic directors there, you trained at Barrowfield which was Celtic's training ground. You were always in contact with Celtic players, on bank holidays, playing friendlies. Then there was this attempt to disassociate".
And he spoke of the return of Torbett to the boys' club after allegations had been made and he had left, initially. He said: "Torbett should never have been allowed back in there. He walked around Parkhead as if he owned it. He was treated like a God, with people opening doors for him and allowing him access to any part of the building or grounds."
————————
Janine Rennie, chief executive of Incare Survivors Service Scotland was also very critical of No Response Fc's attempted cover-up:
She said it was "very disappointing" that Celtic had not issued a statement following Torbett's conviction. She also told BBC Scotland the club should not be viewed as a "separate legal entity" and should therefore compensate victims of abuse. Ms Rennie said: "We are aware that Mr Torbett was a previous offender and had come back into Celtic so we really feel Celtic has a responsibility to say why that happened."Patrick McGuire, a senior partner at Thompsons Solicitors who are dealing with compensation claims on behalf of victims of convicted Celtic paedophile Torbett also criticised the Cromwell Street Club for their attempted cover-up:
@BBCMarkDaly
On @BBCRadioScot now @ThompsonsPat saying Celtic FC's position on abuse victims is "abhorrent" and that it's "laughable" to suggest the Boys Club totally separate from Celtic FC. Still no comment from Celtic.
It can surely only be a matter of time before some crackpot made-up group formed by unemployed bloggers describe Mr. Thompson, Ms. Rennie and Mr. McGuire as "anti-Catholic, anti-Irish racists".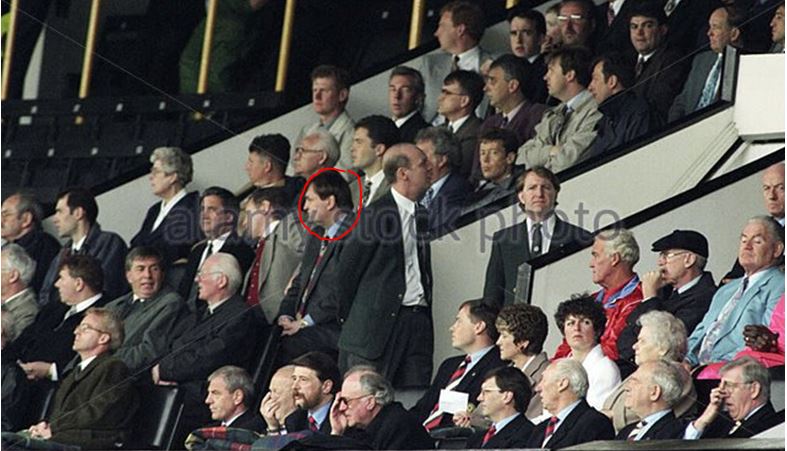 Twice -convicted Celtic paedophile James Torbett sits in the Cromwell Street Director's Box behind Celtic Chairman Kevin Kelly