The fallout from the latest scandal over in the Banana Republic continues. Sport Ireland has now suspended state-funding for the Football Association of Ireland over a clandestine Euros 100,000 payment made by FAI's then Chief Executive John Delaney to his own employer, amid claims of fraud and money laundering.
The Bheastly Delaney is Liewell's man on the Executive Committee at UEFA, ensuring the paedophile harbouring Club Like No Other escape relatively unscathed each time the underclass subspecies that is the Kerrydale Kiddyfiddling Klan transgress on the European stage.
Mr. Delaney, as well as allegedly being corruption personified if internet reports are to be believed, is said to have intentionally involved himself in UEFA proceedings relating to terrace songs Rangers fans have sung whilst on European business. At no time has Celtic supporter Mr. Delaney declared conflict of interest regards UEFA judgements in respect of Rangers fans.
Mr. Delaney is not adverse to a few "terrace songs" of his own; he was caught on camera singing IRA songs in a Dublin pub five years ago. His solicitors sent a letter to newspapers saying: "My client's position is simply that it is not him singing in the video. If you take the decision to publish, legal proceedings will follow." A few hours later Delaney admitted it was him singing terrorist filth in the video.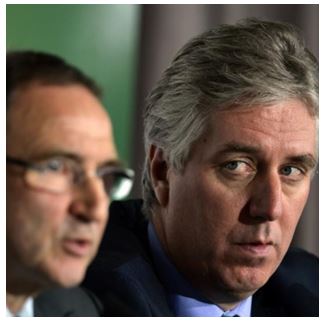 IRA supporter John Delaney with former Celtic Manager Martin O'Neill
In delicious irony the aptly named Imelda Munster, the sport spokeswoman for IRA/Sinn Fein called for Dodgy Delaney and the members of the FAI board to quit after Sport Ireland's announcement. One wonders if Mr. Delaney is still as keen to sing their praises…..
In Ireland moves are now afoot aimed at removing Delaney from football administration altogether. Further, there are calls for the entire FAI Board to resign – proof positive that if you get involved with the mucky dealings of The Bheast you will live to regret it.
Where the putrid stench of sporting corruption and filth fills nostrils, the word "Celtic" won't be far away.
John Delaney pictured with Nonce FC captain Scott Brown, holding green-hooped shirt synonymous worldwide with paedophilia.