Today we will provide proof of yet more despicable lies that came from Celtic F.C. in what was yet another attempt to shamefully cover up their paedophile links.
On 7th May 2009 at The High Court in Edinburgh Neil Strachan, coach and secretary at Celtic Boys Club (Edinburgh) was jailed for life having been found guilty of plotting with others to abuse children. Strachan was convicted of attempting to rape an 18-month-old boy and assaulting a six-year-old. During what one newspaper described as "Scotland's worst child sex abuse trial" the jury heard lurid tales of tens of thousands of indecent images, the rape of children, bestiality and sadism.
In an email message shown in court Strachan wrote to an accomplice "I might have found us a contact with two boys, two and four, willing to share." In another message he has described "having fun with boys aged six and 18 months".
Strachan had previously been found guilty in 1997 of repeatedly sexually abusing a boy of 5 and was on the sex offenders register at the time of his crimes.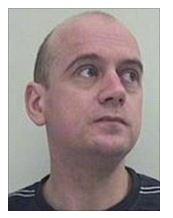 Celtic Boys Club paedophile Neil Strachan (above) was jailed for life
The club like no other denied any connection whatsoever to Celtic Boys Club (Edinburgh), claiming the only tenuous link was the boys clubs use of the word "Celtic".
Below, a copy of a page from a Celtic F.C. official match programme from the late 1980's. This magazine was produced and edited in-house by Celtic F.C. Highlighted at the top right hand corner is a match report for "Celtics new boys club in Edinburgh".
These creatures really have no shame.