Last week wasn't exactly a good one for the "in-denial" branch of the Kerrydale Kiddyfiddling Klan was it?
News of Celtic paedophiles and the Celtic cover-up of child-abuse went Stateside, with a Chief of Police stating that his detectives are now investigating Celtic paedophile Frank Cairney's crimes against children during a Celtic Boys Club visit to USA in 1991.
George King, chief of police for Kearny, New Jersey, said: "The Kearny police department detective bureau is reviewing this information and is in consultation with the Hudson County prosecutors office."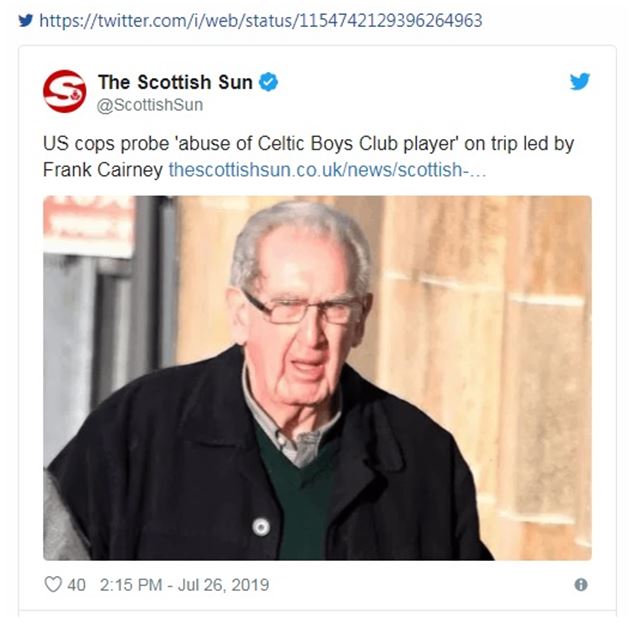 At the same time Kelly Heyboer, a journalist involved in the investigation of child Sexual abuse in the Catholic Church in New Jersey has stated that her team are standing by to report any news they receive from law enforcement, with allegations now surfacing in relation to an earlier Celtic visit in 1989 where a boy claims he was molested by Cairney in the Irish Club, New Jersey. Cairney and former Celtic F.C. employee Jim McCafferty have already been found guilty of molesting the same boy in Scotland.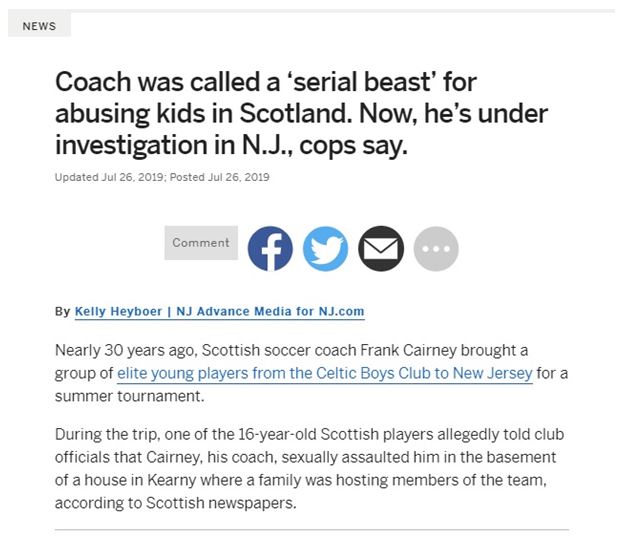 More alarming for the KKK is the news that lawyer Michelle Simpson Tuegel is on Celtic's trail. For those unfamiliar, Ms. Tuegel – a frequent voice on CNN and USA Today – is a former world-ranked athlete turned lawyer who recently represented the former U.S. national team and Olympic gymnasts who were sexually abused by the Olympic team's former doctor. She filed suits against the United States Olympic Committee, USA Gymnastics and Michigan State. Her clients are part of a multi-million dollar global settlement.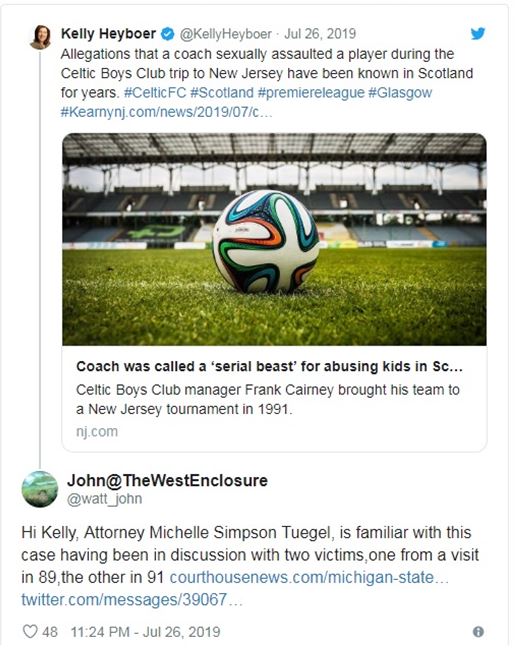 Former Celtic chairman Jack McGinn has already admitted he was told that Cairney had abused a teenager on a tour to New Jersey in 1991 - 30 years before the Bheast was nailed for his crimes. Celtic F.C. concocted a story which claimed Cairney was leaving the youth side of the club due to "pressures at work" - a despicable lie reminiscent of another Celtic paedophilia case where warped paedophile harbourer Jock Stein instructed Celtic F.C. employees to hide the sick crimes of convicted Celtic child molestor Jim Torbett and "keep the name of the club clean at all times".
Convicted Celtic paedophile Gerald King also took Celtic youths on a trip to Kearny, New Jersey in 1983. He wrote an article for the official Celtic F.C. club magazine the Celtic View headlined "Trip of a Lifetime".
Lest we forget, convicted Celtic paedophile Jim McCafferty committed some of his sick crimes whilst with Celtic during football tours in Germany and Austria.
In November 1998, the supremely talented Celtic youth player John McCluskey told how he was molested as a 13-year old back in the mid 1970's by convicted Celtic paedophile Jim Torbett whilst on a club tour in Norway. Mr. McCluskey stated in a Daily Mail interview"He (Jock Stein) kicked Torbett out, but it was still kept quiet. All the directors and lots of others knew why Torbett got the boot, but it was swept under the carpet."
At Torbett's trial in October 2018 a former Celtic player told how the Bheast performed a strip-tease to music before sexually abusing him on a Celtic Boys Club trip to Noyon in France.
Then of course there was the revolting case of young Celtic players being taken to Spain to play in a fictitious tournament with Torbett instructing young boys to lie. One young player said "There was one in Spain when we never kicked a ball yet we were told to phone the sports desks of papers to say we won. I can remember lying that we played Real Madrid and Tommy Burns scored."
More recently we've been informed that a warrant has been issued for the arrest of a seventh Celtic paedophile who has gone on the run abroad.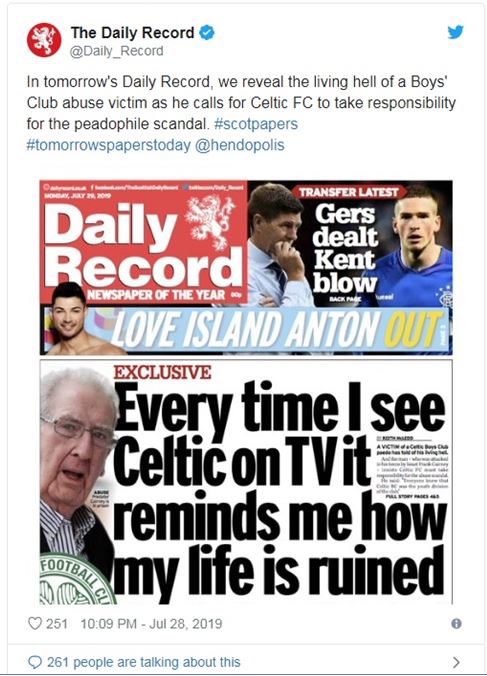 The words "Celtic" and "paedophilia" are inextricably linked and the world knows about it. The KKK can shove fingers in ears and push hands over eyes but nothing is going to make their shame go away.
More and more will come to light in the coming months…..lots more.
Celtic is not a football club.
It's a disease.