In recent weeks, we've seen two large organisations' reputations left in tatters following revelations of vile sex scandals in their midst.
The British Broadcasting Corporation has reeled amid accusations of sleazy cover-ups, gagging clauses, bullying and intimidation in relation to the Jimmy Savile paedophilia scandal. Following the Pollard Report, one senior BBC executive resigned and another three were moved from their jobs. BBC Director General George Entwistle had already resigned in disgrace last November.
The Roman Catholic Church in Scotland has shamed itself, its adherents and the nation as a whole in the way it tried to minimalise the Cardinal O'Brien scandal. Initially O'Brien denied claims of sexual impropriety through rent-a-quote spokesman Peter Kearney. A week later, O'Brien, a man who had been only too keen to moralise to the rest of society, admitted his guilt. The Observer journalist Catherine Deveney had been dogged in her quest for truth and justice, and O'Brien's fate was sealed. The normally quote-happy Kearney has since disappeared up his own backside it would seem. Meanwhile the Daily Express ran the headline "Disgraced Cardinal Keith O'Brien sorry for 'drunken fumblings".
In both cases, the media duly investigated and reported events as they unfolded. That is what they are paid to do. The days of pressure being applied by the guilty and "softly softy" responses from a compliant media are over. Paedophilia and sexual deviance are no longer tip-toed around by British newspaper editors and radio/TV producers. I was quite amazed when BBC Radio Scotland allowed Catherine Deveney to reveal, unequivocally, that the Roman Catholic Church had lied when claiming details of the allegations against O'Brien had been unknown to them. Ms. Deveney shot their untruths to pieces when she told of sending concise details by email to Kearney and Co. and asking them to respond, to no avail.
It's worth remembering that in both cases, the shameful acts took place decades ago. So, with this new-found era of openness, transparency and refusal to be silenced so prevalent in the written and broadcasting British media, one subject still seems taboo; the Celtic paedophilia scandal. That this despicable episode in Celtic Football Clubs' history continues to be covered up to this day is another scandal worthy of investigation in its own right.
To jog the memory; a number of officials and employees of Celtic Football Club were aware of the vile sexual molestation of young boys, some as young as 12 and 13, by the paedophile Jim Torbett, who ran Celtic's youth structure. Included in the "those who knew" list were Celtic's board of directors, manager Jock Stein and club captain Billy McNeil. Torbett was eventually sentenced to 2 years in prison for his crimes. Sheriff Margaret Gimblett, passing sentence, said that only letters pleading for leniency "stopped her sending Torbett to the High Court, where a far longer sentence could have been imposed".Who wrote these letters remains unclear.
Those who covered up Torbett's activities were never brought to task and forced to explain why they did so. No official apology was made. Celtic paid no compensation to victims, many of whom had their lives ruined by Torbett. Sickeningly, he was actually allowed to RETURN to Celtic after his "indiscretions" were brought to the fore, enabling him to molest more children.
If I may recap on evidence heard at Glasgow Sheriff Court and reported in various newspapers during the Daily Record's expose and Torbett's subsequent trial:
"Jock Stein and the Celtic board covered up allegations made against Boys' Club founder Jim Torbett…… He (witness Hugh Birt) told how he took the allegations against Torbett to the Celtic board and Stein and even told the then vice-chairman, Kevin Kelly, about them at a meeting…… I was told by Jock Stein to keep the name of Celtic Football Club clean at all times."(1)
"Kevin Kelly (former Celtic Chairman), still honorary president of the (Celtic) boys' club, is a fellow director of Torbett's company The Trophy Centre, and current board member Jack McGinn is an employee… It is not clear why a man widely regarded as a child abuser was allowed back into a position of responsibility at the boys' club."(2)
"Birt claims he was concerned about the behaviour of both (Frank) Cairney and Torbett - who wheedled his way back in after Stein's death – and raised the matter with the club. Before he knew it Birt was asked to resign. When he stood his ground and refused, Celtic withdrew his ticket to the directors' box and he had no option but to get out." (2)
"Why didn't they blow the whistle? …a pervert was allowed to prey on a succession of vulnerable kids… while those (at Celtic) in authority looked the other way…why - despite the stream of accusations of sexual abuse - was Torbett still acting for Celtic in an official capacity as late as 1993? …why did former Celtic chairman Kevin Kelly - who was made aware of the allegations - give Torbett his endorsement by becoming a director of his Trophy Centre shops? …The police must carry out an immediate criminal investigation…" (3)
"A disturbing aspect is the allegation of a cover-up to maintain Celtic's image. That is shameful…(4)
"It (Torbett's crimes) was an open secret at Parkhead" former Celtic captain Billy McNeil(5)
"Dark secret that took 30 years to expose; NO MORE COVER-UPS: HOW THE RECORD BROUGHT AN END TO THE CANCER THAT EXISTED IN CELTIC BOYS' CLUB… from the boardroom to the dressing room, it was murmured that Celtic Boys' Club boss Jim Torbett was molesting young stars… to a man, the Celtic board did nothing to expose the pervert and the dreadful scandal… if ever a story had been hushed up it was this one… the shameful silence only helped the man who preyed on the teenage hopefuls, knowing they would be too afraid to reveal the truth". (6)
Victim 1 – "the burly six-footer broke down in tears as he recalled the abuse that ended his football career and has left him depressed and lonely."
Victim 2 – "Now an alcoholic, the man had carried his burden for 23 years. He told through tears of the night Torbett performed a sex act on him as other boys slept nearby on a Boys' Club trip to Norway. He was 13 years of age."
Victim 3 – "He said that he had been abused by Torbett and he believed there were other victims. (He)had also been molested in Torbett's home." (6)
"HUGH Birt's 25-year crusade has been to unmask perverts like Jim Torbett. Today, 12 years after he quit as chairman of Celtic Boys' Club over the sex abuse cover- up, Hugh is still angry. He is convinced that there are dozens of other Torbett victims suffering in silence… Jock said to me to keep its (Celtic's) name clean…..he (Birt) said (Celtic Chairman Kevin) Kelly, who had just been given a plum job at Torbett's Trophy Centre, promised to investigate and the claims were reported to the Boys' Club committee. But minutes from that meeting have vanished. Hugh claims he finally quit after a row with Kelly over the abuse claims." (6)
It is beyond any reasonable doubt that Celtic Football Club and specifically its board and manager covered up the sordid crimes of Jim Torbett. Only a Celtic fan suffering from an acute case of denial and delusion could contest this.
In the USA, an almost identical case came to light last year. The officials of NCAA football club Penn State were found to have "looked the other way… top officials at Penn State concealed accusations for fear of bad publicity"as coach Jerry Sandusky "brought boys onto the campus and molested them" (7)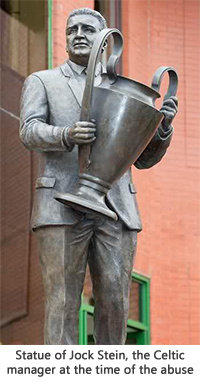 In doing the honourable and decent thing, Penn State Football accepted the NCAA punishments. A $60 million fine; a four-year ban from playing in post-season matches (such as lucrative finals, known as 'Bowls'); 111 victories over 14 years erased. Further, one of the coaches involved in the cover-up, Joe Paterno, had his statue removed from the Penn State campus.
NCAA President Mark Emmert stated that the penalties "reflect the magnitude of these terrible acts''and stated that the NCAA had considered "imposing the death penalty" for the club.
What we have here is a very curious situation. On the other side of the Atlantic a sport's governing body fine a member club $60 million and strip them of 14 years of victories, as well as limiting their success and income for four years, for covering up paedophilia in their midst. Here in Scotland, in an identical case, the Scottish Football Association don't as much as impose a £5 fine on a member club guilty of the same. Why the huge disparity? Celtic Football Club covered up the most heinous of crimes. Lives were destroyed because of their actions, or more to the point, their inactions. Something stinks.
Who at the Scottish Football Association decided Celtic would not be punished in any way, shape or form? Which Procurator Fiscal decided no charges would be brought against those at Celtic who by their disgraceful cover-up regards Torbett's crimes sentenced children to a life of misery? Is the blind eye turned to the Celtic cover-up part of a wider circle of dishonour and deceit?
We need answers to these questions and many others surrounding Celtic's shame. Too late to do anything? Savile (if he were still alive) and O'Brien may disagree. The days of cover-up often aided by a compliant media are gone. Perhaps not entirely in this country, time will tell, but certainly elsewhere. Just ask Penn State Football.
Some of you may care to seek those answers. You could do worse than asking the good and honest people running Operation Yewtree to investigate as a starting point. Perhaps Fox News may be interested in this clear perversion of justice? Something needs to be done, or what remains the greatest sporting scandal in British history will never result in closure.
Daily Record, 11th July 1998.
Scotland on Sunday 18th August 1996
Daily Record 12th August 1996
Daily Record 13th November 1998
Billy McNeil, Evening Times 13th November 1998
Daily Record 13th November 1998
Fox Sports 24th July 2012
Footnote: At the time of publishing, the Daily Mail has published the following article regards the O'Brien scandal. It's never too late to seek truth and justice.
http://www.dailymail.co.uk/news/article-2288260/Disgraced-cardinal-Keith-OBrien-facing-possible-police-investigation-emerges-church-officials-told-live-hermit.html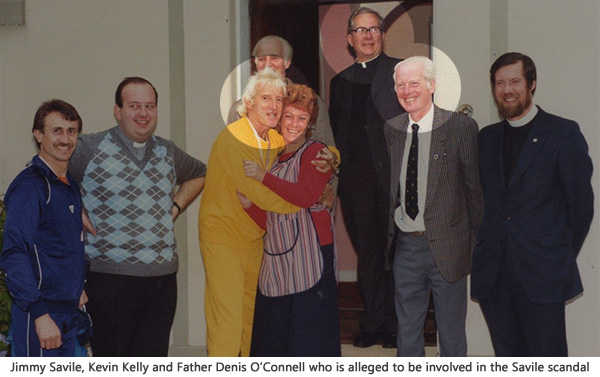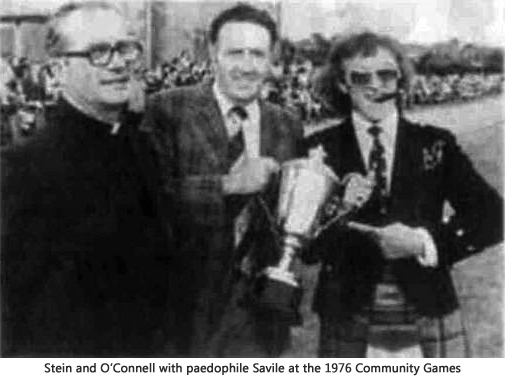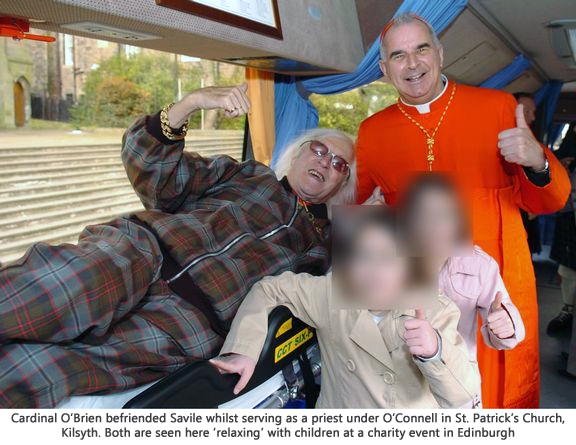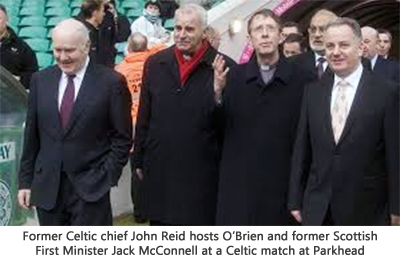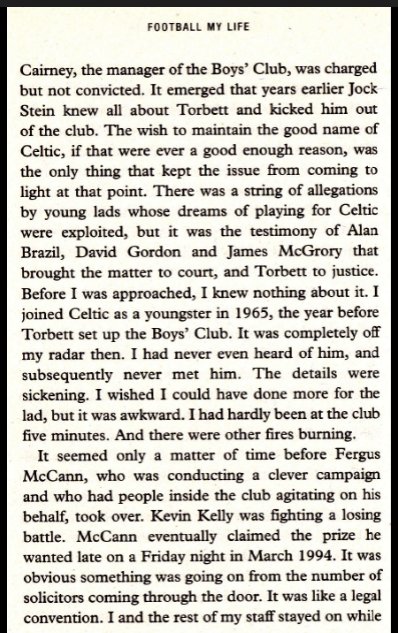 Taken from "Football, My Life" by former Celtic player and manager Lou Macari.