Nonce
noun
informal•British
noun: nonce; plural noun: nonces
1. a person guilty of a sexual offence, especially against a child.
Yesterday billions of people around the globe were able to witness allegations that Celtic CEO Peter Lawwell is a dangerous sexual offender. An individual wearing a Celtic jersey - which is now synonymous with paedophilia worldwide - made the claim that Lawwell is a "nonce" in a video clip you can view here:
https://www.youtube.com/watch?time_continue=51&v=ogm-UgNAu8w&feature=emb_title
Earlier this year the normally motor-mouthed Lawwell refused to answer his door when Channel 4 journalist Alex Thompson (1) turned up at his house to ask him questions about paedophilia at Celtic.
To date six Celtic officials have been found guilty of depraved sexual offences against children, whilst a seventh stands accused of the same. These latest allegations are very serious in light of Celtic's depraved history and no accusation of this kind should be taken lightly. As yet it has not been confirmed whether Police Scotland will question Lawwell regards the allegation.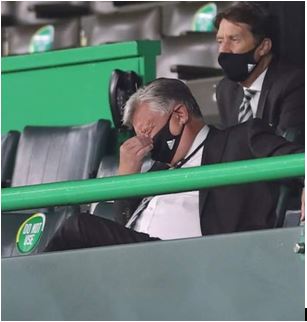 Celtic CEO Peter Lawwell. Has he just been told the latest news?
Lawwell's time as CEO at Celtic has been dogged with controversy. It was revealed that his son resigned his position with his employer following his ejection by door staff from a licensed venue following drunken singing and chanting in support of the IRA at the firms Christmas party.
Eyebrows were also raised when it was discovered his daughter had been given an internship at discredited SPFL lawyer Rod "Fat Bhoy" McKenzie's law firm Harper MacLeod.
(1) Vanguardbears would like to once again thank unemployed blogger Phil Mac Gorilla Brain for kick-starting journalist Alex Thompsons interest in Scottish football.