…….and failed to call the police.
SIX first team managers of the eternally shamed Club Like No Other were made aware of the sexual abuse of children who played in the clubs' youth set up.
None called the police.
JOCK STEIN, was by far the worst offender. In November 1998, under the banner headline "JOCK STEIN AND THE CELTIC BOARD COVERED UP CHILD ABUSE" THE Daily Record told how Stein was informed that convicted Celtic paedophile James Torbett was molesting children at The Theatre Of Shame. Not only did Stein fail to call the police, he instructed other Celtic staff to cover up Torbett's stomach-churning crimes.
When Hugh Birt raised concerns regards allegations that both convicted Celtic paedophile James Torbett and Frank Cairney (currently awaiting trial) were molesting children he was referred to former Celtic Manager DAVID HAY.
In the Evening Times November 1998, following Celtic paedophile James Torbett's first conviction for molesting children former Celtic Manager BILLY McNEIL stated in reference to Torbett's vile crimes "It was an open secret at Parkhead".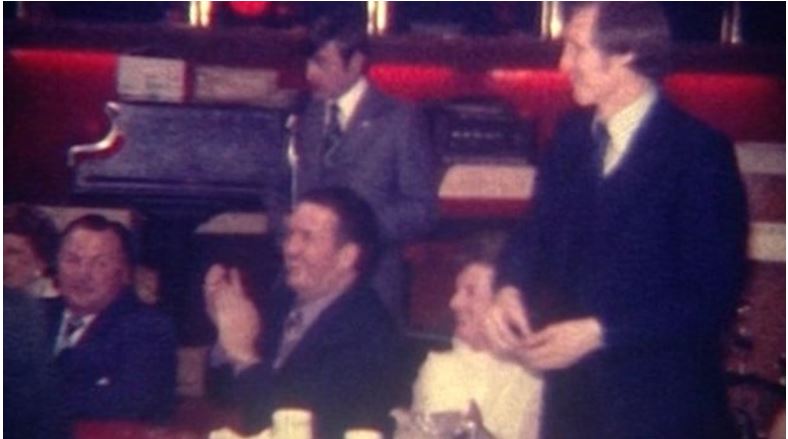 Celtic Managers Jock Stein and Billy McNeil laugh and clap along as convicted Celtic paedophile James Torbet makes a speech.
Following a trip to America a young boy claimed he had been sexually molested by Celtic's Frank Cairney. Scotland on Sunday 18th August 1996 stated "The boy's father took him to Celtic Park to have it out with LIAM BRADY who was then only months in the job as team manager. The club's chief scout John Kelman was also present. It was agreed, by Brady, the boy and his parents and the then Celtic board, that the police would not be informed. The young player was assured that the alleged incident would have no effect on his future career at the club. However, signed statements were taken by Celtic's lawyers from the four adults who had been on the New Jersey trip. All were sworn to silence".
In his autobiography, former Celtic Manager LOU MACARI stated:
"Within a month of my arrival one of the young players asked to see me in my office. He sat down and told me that he had had problems on a trip to North America with the youth team. One of the fellas in charge had made advances towards him. Clearly the kid was distressed about what had happened……My gut feeling was that the kid was speaking the truth……but there was no mechanism within the club or within my experience to deal with it. It emerged that years earlier Jock Stein knew all about Torbett and kicked him out of the club. The wish to maintain the good name of Celtic, if that were ever a good enough reason, was the only thing that kept the issue from coming to light at that point".
There was of course a "mechanism" to deal with it at London Road police station, just a few hundred yards away from Macari's Celtic Park office.
During the first trial of convicted Celtic paedophile James Torbett when Frank Cairney was also charged, Celtic Manager TOMMY BURNS rushed to Cairney's home and told waiting reporters "He has the whole of my backing and that of Celtic Football Club to a man. He has trained some of the great names of Celtic, including Roy Aitken, Paul McStay, George McCluskey, Alan Brazil, Pat Nevin, Peter Grant, Andy Ritchie and myself''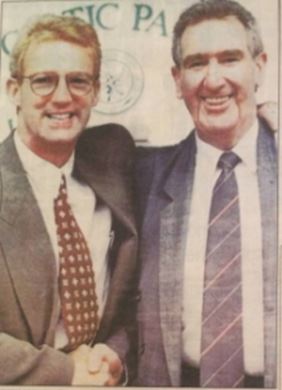 Celtic Manager Tommy Burns with Frank Cairney. Cairney is currently awaiting trial
It's time the Scottish Football Association and the Scottish Government ordered a full independent enquiry into the litany of filth covered up by Celtic officials over a 40-year period, with a view to sanctions against the disgraced organisation.
Celtic is not a football club. It's a disease.