In this fifth article we look at the opinions of various Celtic officials and publications on the link between Celtic F.C. and Celtic Boys Club. The reader may note that – from a Celtic F.C. perspective – the opinions seem to have changed somewhat in light of recent criminal convictions.
An excerpt from "Celtic – The Official History" by former Celtic Football Club Director Brian Wilson.
"Youngsters like Roy Aitken and Tommy Burns were coming through from Celtic Boys Club which had been founded to bring youngsters under the Celtic Wing."
(For the avoidance of doubt, Mr. Wilson wrote the book as a fully sanctioned and funded Celtic F.C. publication).
Official Celtic F.C. publication The Celtic View, March 12, 1986
"David Hay in his remarks welcomed the ex-Celtic Boys Club players now playing with professional clubs. He said it brought great credit to the family name of Celtic that they should maintain the association with the boys club. He complimented Celtic Boys Club and once again confirmed that they are very much a part of Celtic FC."
Official Celtic F.C. publication The Celtic View, November 18, 1987
"It was 20 short years back that Jock Stein and Sir Robert Kelly brought the Celtic Boys Club into the Celtic family. It is now 18 years since Jock and John Higgins made the connection official."
Daily Record 10th December 2018
When the boys club celebrated 21 years in 1987, the then Celtic FC chairman Jack McGinn wrote: "Celtic Boys Club have earned a very good reputation as junior ambassadors of Celtic Football Club."
As Celtic manager, McNeill wrote: "These young men are, and always have been, fine ambassadors for this club."
Kevin Kelly was a board member of Celtic FC in 1987 and a future chairman of the club. As boys' club president in 1987, he wrote: "It is imperative that Celtic Boys Club continue to produce players of the highest quality for the future of Celtic."
Former Celtic Chairman Jack McGinn pictured with one of Torbett's victims Andrew Gray. Andrews brave mother and sister have campaigned tirelessly for justice for their son, whilst being ignored by so-called SNP "Justice Minister" Humza Yousaf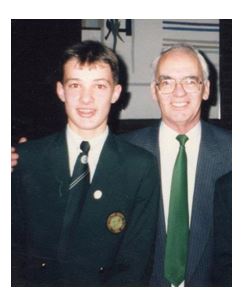 BBC Scotland 6 November 2018
"However decades of Celtic View magazines, and never before seen footage obtained by BBC Scotland, shows how the two clubs were intertwined. In 1993, cash-strapped Celtic called him (twice convicted Celtic paedophile Jim Torbett) in to help them make their club shops profitable.
At the time, a Celtic F.C. spokesman said:
"Mr Torbett is a very successful businessman and a Celtic fan. He is a retail specialist, and we want him to review the operation of the shops."
Below, convicted Celtic paedophile Frank Cairney tells us what we already know. At Cairney's trial he stated he was paid by Celtic F.C. It was also revealed that his molestation of children took place in the Celtic F.C. dressing room.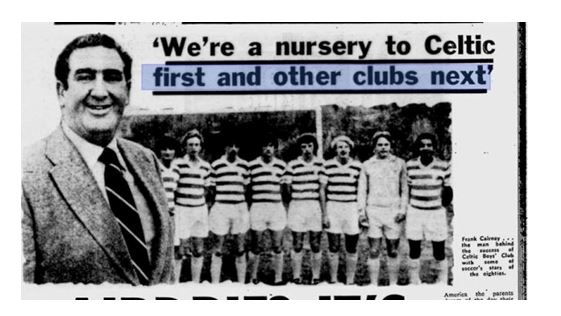 Wednesday 12th December 2018, Hamilton Sherriff Court
At his trial, Frank Cairney was asked in court who asked him to run Celtic Boys Club.
Cairney: "Celtic & Jock Stein"
He was then asked "Were you on the payroll of Celtic?"
Cairney: "Yes"
Convicted Celtic paedophile Frank Cairney speaking in Celtic View, Celtic F.C.'s official magazine May 1987
"In December 1986 a Celtic View report of a boys' club awards night said that Kevin Kelly, Celtic vice-chairman and honorary boys' club president, "paid tribute to Jim Torbett and Frank Cairney for their tremendous efforts"."
Six months later Cairney wrote: "Our achievements this year have given me great satisfaction considering all the problems we faced over the past year. We are completely dedicated to the great name and traditions of the club. Nobody can or will take that away from us."
Below, in the last paragraph (above) twice-convicted Celtic paedophile Jim Torbett speaks of the support Celtic Boys Club had from Celtic F.C. and their manager Jock Stein. At Torbett's first trial evidence revealed that Stein had known Torbett was molesting young boys but instructed Celtic F.C. staff to cover it up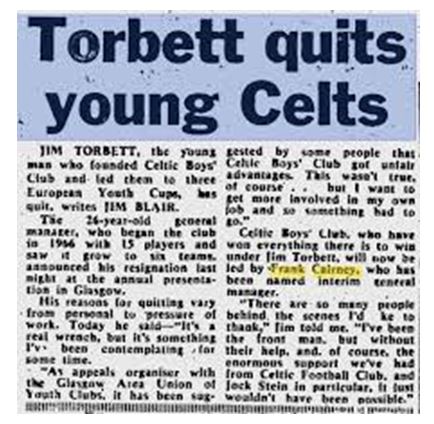 Below, the official match programme for the Tommy Burns Testimonial game against Liverpool. Vice Chairman of the Testimonial Committee is stated as twice-convicted Celtic paedophile Jim Torbett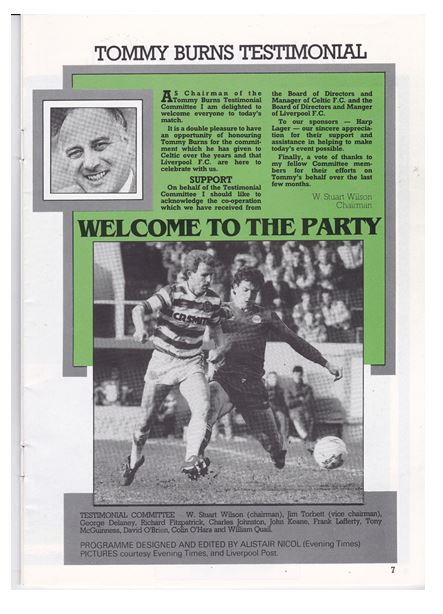 Daily Record 10th December 2018
"Smiling smugly with his young charges, this is Celtic Boys Club beast Jim Torbett during the period when he was abusing children. The photo, which was taken about 1987, shows that Torbett had easy access to Celtic Park. He is posing with a Celtic Boys Club team on the pitch in front of the main stand and the press box. The photo underlines the way the boys club – founded by Torbett in 1966 – operated hand-in-glove with Celtic FC. And it dismisses any suggestion that the two were not linked……"
Scotland on Sunday 18th August 1996
Below, Celtic F.C. Chairman Fergus McCann conducts an investigation using Celtic F.C. lawyers into Torbett's paedophilia. McCann then set up a hotline, at a cost of £5000 – paid for by Celtic F.C. – for victims to call.
"Officially, the club was entirely separate from Celtic but McCann appreciated that it was inextricably bound to Parkhead in the minds of the public, and indeed in the hearts of some of the players and former players - like Peter Grant, Paul McStay and Tommy Burns - who had graduated from it to the big time of professional football.
McCann quickly went about trying to establish the truth, or not, of the accusations. He called in Jim Torbett and asked him to meet Celtic's lawyers and confirm or deny, in an affidavit which could be passed to the police, the accusations. Torbett repeatedly refused."
Daily Record 11th July 1998
Below, transcript from the first Torbett trial. Celtic Boys Club Chairman Hugh Birt stated that he told Stein and Kelly about Torbett's paedophilia and that Stein instructed him to cover it up, rather than call the police. Birt went to Stein and Kelly with allegations regards a football organisation Celtic now claim was nothing to do with them.
"Jock Stein and the Celtic board covered up allegations made against Boys' Club founder Jim Torbett…….Mr Birt said: "There was a lot of hearsay and it wasn't until Jim (Torbett) came back that I got involved because things started up again. He told how he took the allegations against Torbett to the Celtic board and Stein and even told the then vice-chairman, Kevin Kelly, about them at a meeting in his car. He said: "Although there were people who spoke to me I couldn't go to the police without actual proof of the allegations. When I joined as chairman, I was told by Jock Stein to keep the name of Celtic Football Club clean at all times."
Below, the Daily Record confirms that Celtic F.C. conducted an investigation into paedophilia at the club as far back as 1986. An investigation into an organisation they now claim they had no jurisdiction over.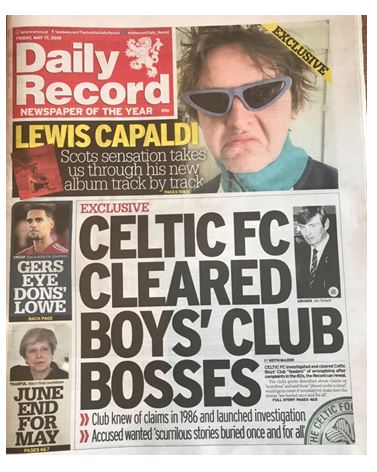 Below, an official Celtic F.C. match programme features details of Celtic Boys Club "player of the month" awards next to awards relating to the Celtic F.C. senior team.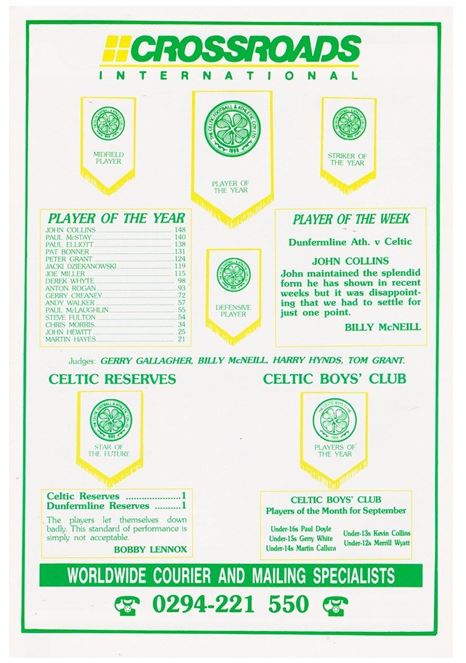 Below, a Celtic View Editorial from 10th December 1986 confirms that the Celtic F.C. board investigated claims of paedophilia at Celtic Boys' Club, an organisation they are now trying to distance themselves from. The Daily Record 17th May 2019 stated:
"The revelation of the club's 80s investigation appears to be at odds with Celtic FC's present stance that the boys' club is a totally separate organisation, and that it was first made aware of allegations of improper behaviour in the mid-90s. At the time of the 1986 investigation by the Celtic FC board, their then vice-chairman Kevin Kelly was also president of Celtic Boys' Club. He was also an employee of Torbett at his trophy business in Glasgow's Shawlands.At the boys' club AGM in 1987 – just months after the allegations came to light – Kelly said that because of the way "true friends" had rallied round, the "criticism" of the boys' club had made it stronger."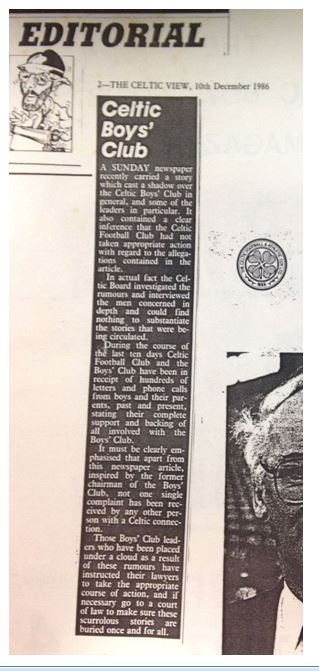 Below, the UK's most respected broadsheet The Times tells the truth about what remains THE GREATEST SPORTING SCANDAL OF ALL TIME.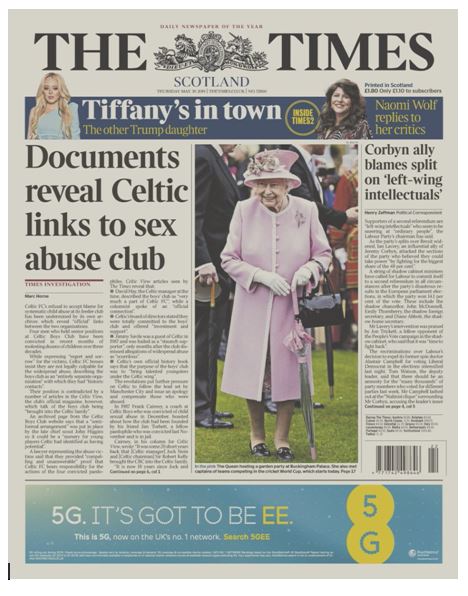 COMING NEXT – FOR THE AVOIDANCE OF DOUBT (THE LINKS BETWEEN CELTIC PAEDOPHILES AND CELTIC F.C.