When Ulsterman Brendan Rodgers secured the gig as manager of the indelibly tarnished Football Club two-and-a-half years ago, Rangers were embarking on a massive rebuilding process. The preening perma-tanned prat must have thought all his Christmases – and Birthdays – had come at once…………
The task ahead? Come first in a one-horse race. Win the SPFL each year with 5-times the resources of your rivals.
And all for £50 grand a week plus bonuses. Privately he must have had a little right old giggle to himself.
It was only when The Club Like No Other stumbled onto the leveller of a European playing field that Rodgers' limitations were woefully exposed. His record is laughable, an embarrassing 1-7 thrashing at Parkpaed by Paris St. Germain my personal favourite.
The ever-gullible members of the Kerrydale Kiddyfiddling Klan didn't care. Staying ahead of Rangers domestically is all that matters to them such is their inferiority complex. Let's be honest, the Bheast takes naïve and simple to a whole new level. They lapped up the duplicitous pronunciations of Bullshit Brendan, encouraged by brain-dead bloggers who told them of potential £20 million fees for dross like Dedryck Boyata and Olivier Ntcham.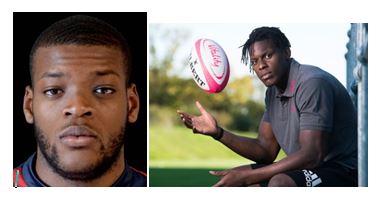 Olivier Ntcham (left) is desperate to escape The Theatre of Shame whilst Dedryck Boyota (right) who will leave for free in the summer might be better suited to the oval ball game.
Similar Rodgers' transfer dealings. Edouard at £10million? "German international" Marvin Compper? "Real Madrid taget" Charlie Musonda? Jack Hendry (Rodgers described his potential as "huge")?
And still the KKK couldn't see it. When Rodgers signed on at Paedo Park he said"I'm in the best job in the world".The KKK soak that kind of pish up.
The truth is Rodgers knows it is only a matter of time before Scotland's biggest and most successful football club under Steven Gerrard are back on top. The realisation that world-famous Gerrard is THE big name in Scottish football badly bruised Rodgers' ego. The name Brendan Rodgers means nothing in Madrid, Milan or Munich. That, combined with the knowledge that the word Celtic would from here to eternity stir thoughts of endemic paedophilia meant he couldn't get out of the place quick enough.
The fact is Brendan Rodgers considers Leicester City a better prospect than The Club Like No Other.
And who could blame him.