…..and is there a police cover-up?
Regular readers of Vanguardbears articles may recall a piece recounting revelations regards the original Celtic Paedophilia Scandal - information that came to light in the mid-1990's.
A quick reminder: At the time, a Celtic fan by the name of Gerry McSherry was hawking around what he called "The Paedo Files". The information therein resulted in an award-winning Daily Record investigation and the conviction of Celtic paedophile James Torbett. The trial heard that Torbett was allowed to return to Celtic Park after manager Jock Stein was made aware of his sordid activities.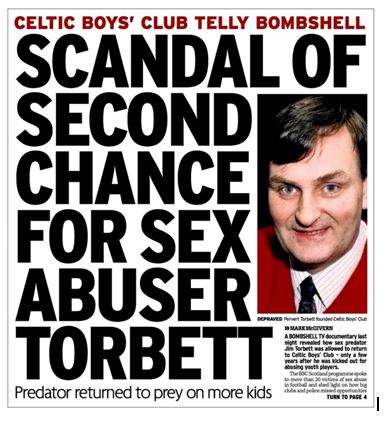 Mr. McSherry's revelations also led to the first trial of Celtic paedophile Frank Cairney – a friend of late Celtic managers Jock Stein and Tommy Burns. This trial was to collapse as traumatised victims failed to give evidence. Last week, after a new trial, Cairney was found guilty of a string of offences against children whilst at Celtic.
Two weeks ago yet another Celtic paedophile Gerald King was also convicted of offences against children placed in his care.
Today STV published an interview with Mr. McSherry which provided more questions than answers.
Quote:
"McSherry believes that Cairney and King should have been brought to justice years earlier - and warned that others have still not been caught.
He said: "I gave the police the names. 14 names, not two names. I gave them the names in 1995 and 1996. They only arrested Torbett and Cairney at the time. Clearly, serious questions need to be asked of the police."
Let that sink in! 14 Celtic names. 14 Celtic paedophiles?
As stated in a previous article, if all victims of Celtic paedophilia choose to step forward their number will exceed one hundred. One hundred children abused at Celtic Park, at Celtic's training ground and while representing Celtic's youth wing. A Basket of Filth.
Celtic Park (above). A cesspit of moral filth.
A full enquiry into the Greatest Sporting Scandal of All Time and the cover-up must be initiated and severe sanctions against the vile club must follow.