"Justice will not be served until those who are unaffected are as outraged as those who are" – Benjamin Franklin
Hibs fan Cameron Mack, who "acted in an aggressive manner" towards Rangers' captain James Tavernier at Easter Road, has been convicted of breach of the peace and sentenced to 100 days in the pokey.
I'm going to do something I've never done before. I'm going to stick up for a Hibs fan. Well sort of.
Mr. Mack is a moron. A brain-dead waste of skin. In Glasgow parlance, a "hauf-wit". But is he a danger to the general public and deserving of 100 days in prison for his crime? He has no previous convictions of any kind, he has a young family and he has apologised to James Tavernier and Rangers F.C. He was assessed as "low risk" of re-offending.
The decision by a sheriff to jail Mr. Mack for 100 days is what's termed a "political sentence". In a similar vein, the decision made to scrap the trial of the Bheasts responsible hanging effigies of Rangers supporters and Orangemen displayed at the James Torbett Arena (subsequent to evidence disappearing) was a political one. Said evidence was "politically lost".
Compare and contrast Mr. Mack's sentence with that of Celtic F.C. official and paedophile Gerry King. The Bheast was found guilty of sexually abusing four boys and a girl aged between 9 and 13. He was also found guilty of taking indecent pictures of children. He was spared jail and given a three-year probation order and 240 hours community service.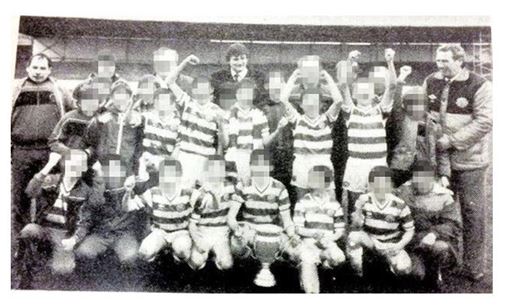 Convicted Celtic paedophile Gerry King (far left) pictured with convicted Celtic paedophile James Torbett (centre) and convicted Celtic paedophile Frank Cairney (right)
Was Mr. King's sentence political? Are those in the corridors of power fearful that the truth regards a paedophile ring operating at Celtic Park and sanctioned by stealth will finally be exposed?
Who would you say is more of a danger to law-abiding members of the public, children in particular? Hibs fan Mr. Mack or Celtic official Mr. King? Perhaps our Justice Minister Humza Yousaf (below) could answer that question for us.