One notes that The Sun newspaper issued a correction to their statement that twice-convicted Celtic paedophile Jim Torbett is "an ex-Celtic coach".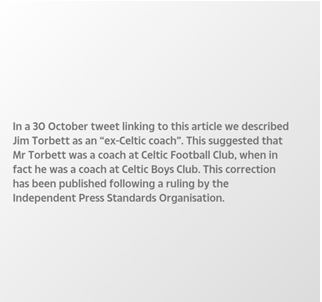 It is unclear whether the complaint was made by The Club Like No Other, the public relations company Hollicom (whom they have hired in a pathetic attempt to minimize damage and cover their shame) or just a demented member of the Kerrydale Kiddyfiddling Klan.
What is clear is that this is yet another feeble attempt from the dysfunctional "Celtic Family" to propagate the "separate entity" lie. Any twisted move by Celtic F.C., Hollicom or the KKK to deny the inextricable link between Celtic F.C. and Celtic B.C. will be destroyed in court.
Jim Torbett – for the avoidance of doubt
Celtic paedophile Jim Torbett formed Celtic Boys Club in 1966 when he was just 20 years old. He had sought the permission of Celtic F.C. manager Jock Stein and Chairman Bob Kelly to affiliate via the Celtic name.
Stein took an increasing interest in the newly-formed boys club and it was decided that it should be given full facilities at Barrowfield, Celtic F.C.'s training ground. The Club's Chief Scout at the time, one John Higgins, had suggested that the link should be strengthened. He wanted the Boys Club to operate an under-16 side in which boys signed by Celtic could be introduced to "the Celtic way" (they most certainly were) and filter through the system. Both Stein and Celtic Chairman Kevin Kelly went on to become honorary presidents of the boys club.
In addition to his involvement with the Celtic youth system Torbett became increasingly influential at Celtic F.C. He ran The Trophy Centre which supplied goods to Celtic's shop via a £1-million contract. He had had his own seat in the Parkhead director's box and at one point looked set to become a director of the club. The Trophy Centre also boasted two Celtic directors on its board – Kevin Kelly and Jack McGinn, as well as McGinn's wife Anne.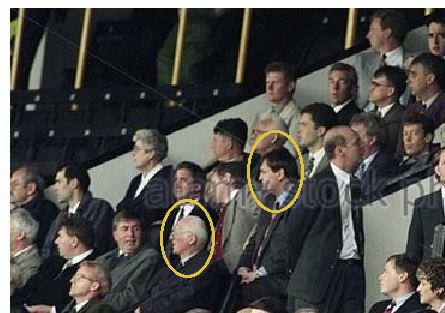 Twice-convicted Celtic paedophile Jim Torbett sitting behind Celtic Chairman Kevin Kelly in the Celtic Directors Box
Meanwhile Torbett had been taking young boys to non-existent tournaments in order to molest them. Investigative journalists may care to look into who funded these trips. One ex-boys' club player stated "There was one in Spain when we never kicked a ball yet we were told to phone the sports desks of papers to say we won. I can remember lying that we played Real Madrid and Tommy Burns scored."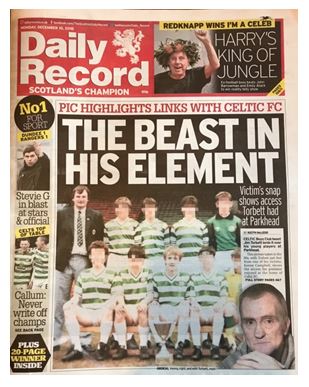 In 1998 Torbett was found guilty of the sexual abuse of children in his care at Glasgow Sheriff Court and was given a two-and-a-half year prison sentence. During the trial it was revealed that Jock Stein was aware of Torbett's sexual molestation of children but rather than inform the police he had instructed Celtic F.C. employees to cover up the crimes and "keep the name of the club clean at all times". This evidence- revealed by a witness under oath - has never been refuted by Celtic F.C.
On the 5th November 2018, a BBC news report stated:
"Former Boys Club chairman Hugh Birt told the trial Torbett's first spell had ended in 1974 because he was kicked out by its then honorary president Jock Stein, after allegations of child abuse emerged. The police were never called. The BBC has spoken to three additional sources close to the events in 1974 who support Birt's version of events."
Let's be clear here. Stein and the Celtic Board harboured a paedophile rather than do the right thing.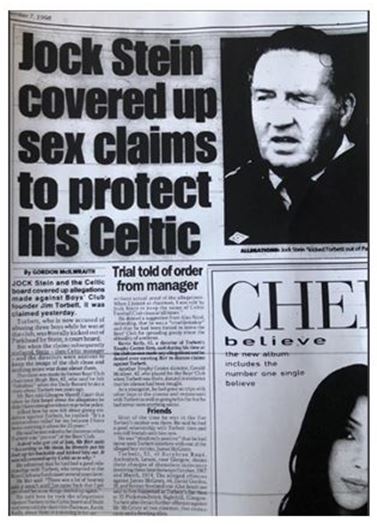 In 2018 Torbett again stood trial and was found guilty at the High Court in Glasgow. He had denied yet more charges of molesting children in his care at Celtic. Two victims had been in his under-14s football team, while the third was abused by Torbett at the age of just five.
On sentencing him to a further six years imprisonment Lord Beckett told Torbett: "You groomed boys and contrived situations (like paid for trips abroad?) when you could abuse them. Yours is some of the most corrupting behaviour I have ever heard of in these courts. Your depraved conduct towards innocent children has blighted their lives."
It must never be forgotten that all the pain and suffering these children endured and indeed continue to endure to this day could have been prevented had the immoral Jock Stein picked up a phone and called the police.
COMING NEXT – THE VIEWS OF THE VICTIMS, VICTIMS GROUPS, LEGAL EAGLES, POLITICIANS AND CELTIC F.C THEMSELVES ON WHETHER CELTIC F.C. AND CELTIC BOYS CLUB ARE INSEPARABLE