It's exactly a year since The Club Like No Other revealed their "secret investigation" into paedophilia at The Theatre of Shame. You know……the secret investigation in which they didn't bother to contact a single survivor of their plethora of child-molesting officials.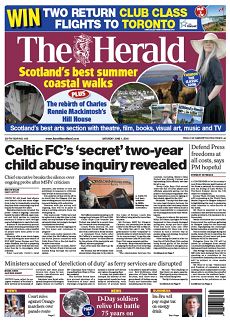 Today in The Times journalist Marc Horne reveals that Jock Stein (by then Scottish national team manager) who knew that Celtic pederast James Torbett was molesting children, actually signed autographs for the Bheast at his Pollokshaws based shop. The same shop where Torbett was convicted of molesting children.
The mind boggles.
In a separate article today, the doggedly determined Horne reveals that Torbett was actually employed by Celtic F.C. to run one of their club shops.
Quite how Celtic's disastrous PR firm Hollinonce are going to manage the fall-out from this one is as-yet unclear. Perhaps they could instruct their media poodles to spin another story about the grubby club's helping to search for missing children?
Matters are only going to get worse for them in the coming weeks and months as yet more paedophile Celtic officials are exposed.
Meanwhile the unabashed Club Like No Other continue to display their grotesque statue of paedophile harbourer Stein outside their premises……whilst the Scottish Football Association maintain his place in their "Hall of Fame".
Shame on them.

Stein pictured presenting awards to convicted Celtic paedophiles James Torbett and Frank Cairney. Stein was aware both were molesting Celtic youth players and failed to contact the police.