In May this year, Old Laughing Bhoy Peter Lawwell, CEO of The Club Like No Other, branded Rangers' SPFL dossier "embarrassing".
Today a national newspaper (1) shows The Bheasty Bhoys attempts to deny any link to Celtic Boys Club to be a disgusting sham. They have reproduced a chart printed in the club's own newspaper the Celtic View which displays beyond any reasonable doubt that Celtic Boys Club was very much part of Celtic F.C.'s network.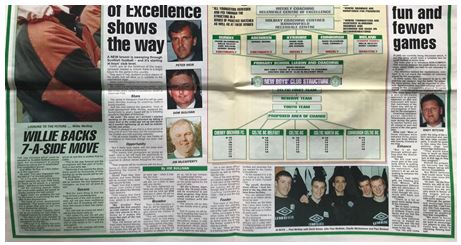 In doing so, The Daily Record has shown organ grinder Peter Lawwell to be a despicable liar whose grubby concern for Celtic FC's finances transcends the welfare of children put in his clubs' care. Embarrassing doesn't even begin to describe it.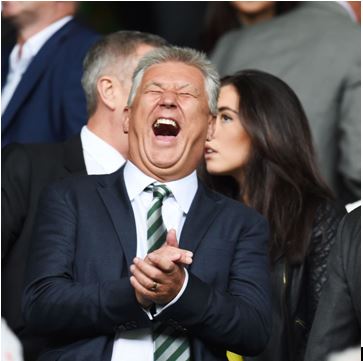 The football authorities (and the police) need to question Lawwell as to why he allowed The Club Like No Other's lawyers to go down the path of denial, despite overwhelming evidence to the contrary. Is Peter Lawwell continuing down the well-trodden Celtic F.C. path of trying to cover up the vile crimes of their officials?
Maybe Alex Thompson** of Channel 4 could revisit Lawwell's home and put questions to him. Hopefully he'll have more luck this time and the normally quote-happy CEO won't be hiding behind the curtains again.
(1) The Daily Record seem to be claiming their "find" as some kind of exclusive. The Celtic Chart was uncovered by an up-standing group of people who are determined to see justice for the victims of Celtic pedophilia two weeks ago. If the Daily Record had any REAL journalists left they'd have uncovered this many years ago.
(2) Vanguardbears would once again like to thank unemployed blogger Phil Mac Giolla Bhain for kick-starting Alex Thompsons interest in Scottish football. Old Laughing Bhoy would no doubt like to thank you too.