"As so often happens with Washington scandals, it isn't the original scandal that gets people in the most trouble - it's the attempted cover-up."

- Tom Petri OBE.
"I had been investigating rumours about Celtic Boys Club for years, as had other journalists, but we were faced with denial after denial from the club"

- Anna Smith, the journalist who broke the story of convicted Celtic paedophile James Torbett.
Last week saw yet another Celtic Boys Club official accused of sexual crimes against children. Gerry King, former Chairman and coach with the youth set-up was charged by Police Scotland, the FIFTH Celtic coach to face court in relation to paedophilia. At the same time it was revealed that convicted Celtic paedophile James Torbett faces new allegations that he sexually molested yet another young player.
Four months ago it was suggested that there could have been a paedophile ring operating at Celtic. Latest developments do nothing to dampen those suspicions.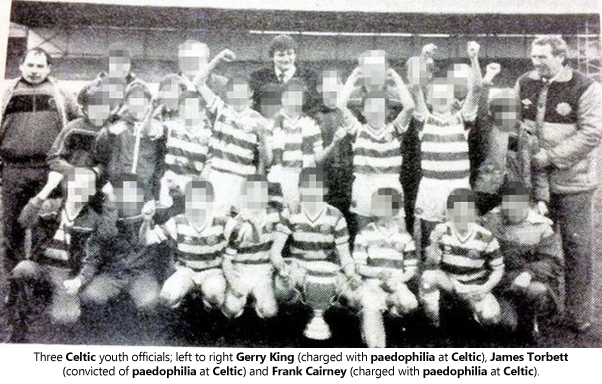 In addition to his position at Celtic, Gerry King was an employee of Torbett's "Trophy Centre" business. Other employees of Trophy Centre at board level were former Celtic FC executives Kevin Kelly and Jack McGinn. Both Kelly and McGinn served as Chairman of the Board of Directors at Celtic FC.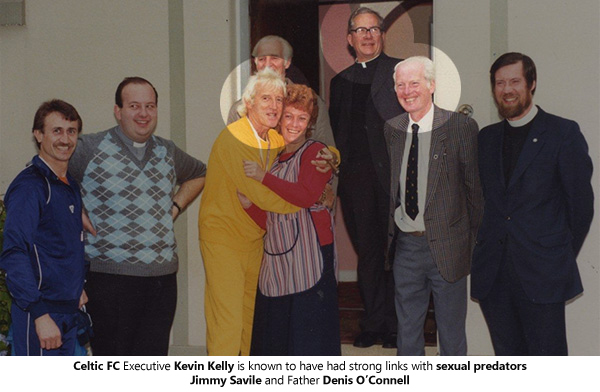 Suddenly the same Celtic Boys Club that had an official column in the Celtic FC club magazine, that had been funded by Celtic FC, that had been lauded by Celtic FC as their "conveyor belt" of young talent, were, in the words of a Peter Lawwell-managed anonymous Celtic FC spokesman "a separate and distinct organisation". In a Keystone Cops moment that surely left the normally shameless Lawwell blushing, in the very next sentence Celtic FC asked "anyone with concerns to contact us".
So there we have it. Celtic FC want anyone concerned about sexual abuse at an organisation they claim to have nothing to do with to contact them. The more they trot out their lies, the more they emphasise their guilt. One might be led to believe they're worried about possible lawsuits and compensation claims.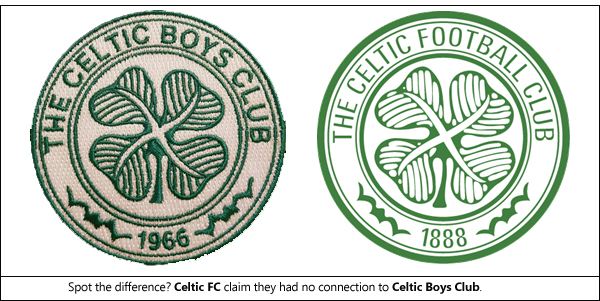 Lawwell's cover-squad is effectively tying itself in knots. For every answer they give, even more questions arise;
In the 1970's according to Celtic FC, their football manager Jock Stein, on being made aware of Torbett's molestation of children in their care, sacked the depraved Torbett (whilst shamefully omitting to call the police in a cover-up that enabled the deviant to continue molesting young boys). Quite how Stein managed to sack someone from an organisation Celtic FC claim to have no jurisdiction over has never been explained.
In 1991 a young Celtic player and his father complained to Celtic FC manager Liam Brady about Frank Cairney. Brady took the complaint to Celtic FC board. Why Brady and the Celtic Board would be involved in a complaint regards an organisation to which Celtic FC claim to have no links remains a mystery.
In his autobiography "Football, My Life" former Celtic FC manager Lou Macari told the sordid tale of a young Celtic player entering his office in 1993 to complain that he had been sexually molested by a coach on a Celtic Boys Club trip to USA. Why the young player should complain to the Celtic FC manager when Celtic FC claim to have no links to the youth set up has never been clarified.
Following allegations that young Celtic players were molested by a paedophile Celtic employee, Celtic FC's lawyers were called in to write up a "silence" agreement involving the victims and their parents. Once again we have a disturbing scenario whereby Celtic FC (and their lawyers) became heavily involved in a situation they claim has nothing to do with them.
I could go on all day, but I'm sure you get the picture. To this day, in continuing with tradition, Celtic FC deny children - many of whom had their lives ruined - the truth and justice they deserve. What we are now witnessing is the cover-up of the cover-up of what is undoubtedly the biggest scandal in the history of sport. The Celtic FC officials in faux denial and deliberately muddying the waters are as bad as the paedophiles themselves. In a quite sickening development, those running the indelibly tainted organisation last week released a season ticket sales blurb that included the slogan "Pride In Our Past". The individuals running Celtic FC are completely immoral and almost mocking of the victims of paedophiles in their midst.
Celtic FC are putrid. A stain on our nation.